EDF Strikes Deal With China on Three U.K. Nuclear Plants
by and
State-run utility to take 66.5% stake in Hinkley, first plant

Final investment decision in next few weeks, de Rivaz says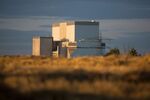 Electricite de France SA and China General Nuclear Power Corp. signed a strategic investment agreement to build three new nuclear power stations in the U.K. as old reactors retire and the nation plans to move away from coal to reduce greenhouse gas emissions.
Paris-based EDF will have a 66.5 percent stake in the first plant, Hinkley Point C, with CGN taking the remaining share. The Chinese company will provide 6 billion pounds ($9.3 billion) of the 18 billion-pound cost for the 3.2 gigawatt plant due online in 2025, Vincent de Rivaz, chief executive officer of EDF's U.K. unit, told reporters in a call on Wednesday.
Chinese President, Xi Jinping and U.K. Prime Minister David Cameron signed an agreement Wednesday allowing the projects to go ahead. Hinkley Point C, which will meet 7 percent of the U.K.'s power demand, will be the first nuclear station in the U.K. since Sizewell B started generating in 1995. As old coal plants are shut, the government needs to secure new plants that will provide predictable electricity for decades to come.
This is "one of largest investments ever in British history," de Rivaz said. Hinkley Point C "will provide low carbon electricity for decades to come."
EDF will consider the possibility of adding new partners for a 15 percent stake in the project, while the company intends to retain more than 50 percent.
To secure a deal for new reactors the government agreed two years ago that Hinkley will get a subsidy of 92.50 pounds for every megawatt-hour it produces for 35 years. That's more than double the forward-curve price of power for 2020, according to broker data compiled by Bloomberg. The price drops to 89.50 pounds if a station using the same technology goes ahead at the Sizewell C site.
"We are confident that in the next few weeks we will have completed the final implementation phase of these agreements," de Rivaz said. "We are announcing all the agreements today with the government so all contracts are also in final agreed form."
Final Decision
A final investment decision on Hinkley will be signed by EDF in the next "few weeks", he said. The EDF board will need to give final approval once the "long form" of the agreement is finalized.
The U.K. is debating closing all its 12 coal-fired power plants by 2023 at the same time as it's facing a squeeze on supplies. EDF's 1.2-gigawatt Sizewell B plant is the only one of the nation's current 15 reactors scheduled to generate beyond 2023.
EDF's agreement with CGN includes construction of a plant at Sizewell, with the French company taking 80 percent in a joint venture for the cost of the development of the project, de Rivaz said. It's too early to speculate on the final shareholding, he said.
Chinese technology
The companies also agreed to develop a 1 gigawatt plant at Bradwell which would use Chinese nuclear technology. CGN plans to take a 66.5 percent stake with EDF taking the remaining share, de Rivaz said. Once licensed, the technology could be used jointly abroad, he said.
The final investment decision for two Sizewell reactors won't be made before 2018, EDF said. It may take at least three years to get the new Chinese technology for Bradwell approved by U.K. authorities, meaning that a firm order for the reactor's construction won't happen for five or six years, the company said.
Hinkley Point C will be equity funded by both companies "at least during a first stage", with EDF fully consolidating the project on its balance sheet, the company said. EDF will pay for Hinkley Point C with a corporate financing approach, rather than an earlier mooted option of project finance, de Rivaz said.
If the project isn't completed on time or runs over budget, it isn't yet clear how any additional costs to the project would be split, Martin Young, analyst at RBC Capital Markets said by phone from London.
"It will be interesting to see whether it is an equitable portion of risk between the two companies or it all falls to EDF," he said.
To help finance Hinkley, EDF is reviewing assets, according to Jean-Bernard Levy, CEO of EDF in France.
"You'd expect EDF to be selling some assets", Young said."They don't need the distraction of a fragmented portfolio of assets."
Before it's here, it's on the Bloomberg Terminal.
LEARN MORE