Draghi Rubs Shoulders With Gamblers for High-Stakes Decision
by and
ECB Governing Council holds monetary policy meeting in Malta

Island nation thriving compared with rest of euro area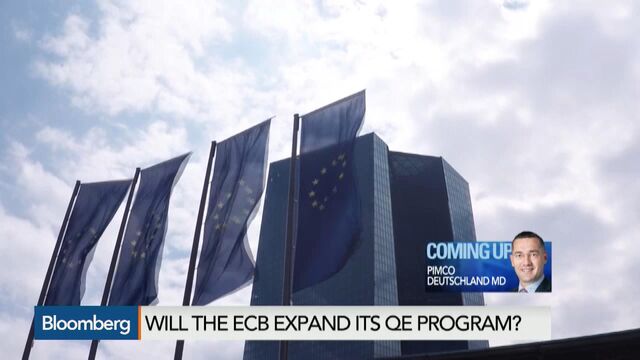 Mario Draghi and European Central Bank policy makers have chosen the perfect setting for their high-stakes discussion on the euro area's monetary policy: a Maltese resort that boasts one of the Mediterranean's biggest casinos.
Trading gray Frankfurt for the balmy island capital Valletta, where it was 23 Celsius (73 Fahrenheit) on Thursday, the ECB president and Governing Council are meeting in the 5-star Westin Dragonara complex which boasts two private beaches as well as the 24-hour gambler's den. As they fret over the 19-nation region's budding recovery, which is being jeopardized by weaker trade and volatile markets, the central bankers will find that Malta offers a tantalizing glimpse of what they're struggling to achieve.
Across the country of just under 430,000 people, the economy is thriving in a way that most of Malta's euro-area partners can only dream of. Gross domestic product grew four times as fast as the rest of the euro area in the past six years and the small island nation boasts the second-best job creation in Europe.

"Economic growth reached new heights in 2015," Finance Minister Edward Scicluna said in an interview.
During the second quarter of this year, GDP accelerated to 5.2 percent in real terms. This was the strongest economic growth by Malta since 2007. In the same quarter, unemployment reached a record low of 5.4 percent, less than half the euro area average.

Scicluna attributes Maltese growth to increased disposable income, work incentives, support for businesses and being open to investment. In a scenario several of Malta's euro-area partners may envy, Scicluna said income tax will be cut again next year, the pensionable age won't be raised, and pensioners on low incomes will get an increase.
Those who come to stay rank Malta the third best place in the world to live in, according the annual Expat Insider survey published last week by the InterNations global network for people who live and work abroad. Job satisfaction was high and two-thirds of respondents or more were happy with their career prospects, work-life balance, and working hours. Ecuador and Mexico topped the list.
Refugee Crisis
The island, which British statesman Joseph Chamberlain described in 1902 as "a fortress essential to our needs in the Mediterranean" and which lies just 207 miles north of Libya, has also largely dodged the migration crisis which is putting a strain on its other Mediterranean neighbors such as Italy and Greece. While Italy has seen more than 121,000 migrants arrive on its shores since last January, over the same period, the Maltese Navy rescued 93 migrants.
Mark Vella, investment manager at local firm Calamatta Cuschieri, said Malta's well-being and remarkable economic performance have "spearheaded it to the leader of the pack, with the large part of the euro zone economies trailing Malta's stellar performance." Vella expects quantitative easing purchases by the ECB to help keep interest rates anchored at low levels. Officials kept borrowing costs unchanged on Thursday.
To be sure, the island does have its problems, which include high government spending, as center-right opposition leader Simon Busuttil told lawmakers on Monday. Recurrent spending is rising, capital investment is being reduced, and inflation is at 1.6 percent, the highest in Europe, due to high fuel and electricity prices, he said. That's a problem most euro-area nations wish they had, as the ECB struggles to keep the region away from deflation.
Like the wealthy casino clients they will be rubbing shoulders with in the hotel lobby, Draghi and his colleagues will also have money on their minds. The ECB may have no choice but to add stimulus to the fragile euro area before the end of the year, according to economists in a Bloomberg survey. The question is how soon Draghi will be willing to make that gamble.
Before it's here, it's on the Bloomberg Terminal.
LEARN MORE