Business
Credit Suisse Drops as Investors Question Strategy's Targets
By
Credit Suisse Drops as Investors Question Strategy's Targets
By
Bank plans to hold IPO of Swiss banking unit by 2017

Third-quarter wealth, investment bank profit misses estimates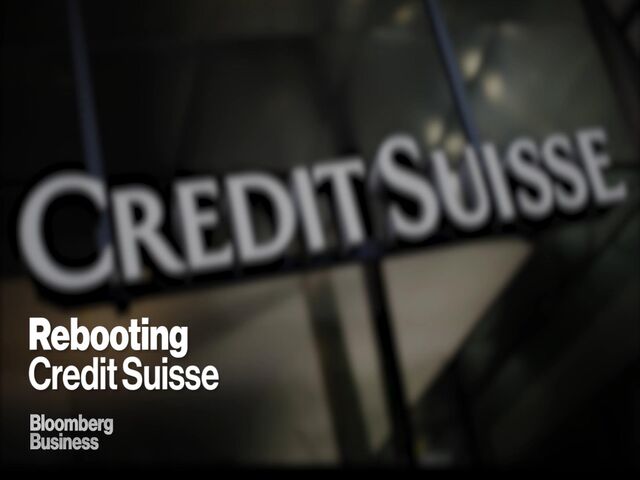 Credit Suisse Group AG investors questioned Tidjane Thiam's plan to prioritize wealth management over the investment bank and rely on growth in Asia while tapping shareholders to bolster capital.
In the multi-year plan the bank will reorganize along geographical lines and split and shrink the securities unit, Credit Suisse said on Wednesday. The company plans to hold an initial public offering of the Swiss business to raise funds and make acquisitions, while cutting 5,600 jobs across the U.S., the U.K. and Switzerland.
The shares fell after the strategy announcement by Thiam, 53, the chief executive officer recruited in July to rebuild investor confidence in a bank struggling with tougher capital demands and record-low interest rates. The plan didn't spell out details of how the company will more than double profit in Asia and Thiam said he would not provide a target for profitability because only a "fool" would commit to something he can't control.
"There's still a lot of uncertainty over this strategy," said Lutz Roehmeyer, who helps manage 11 billion euros ($12.8 billion) at LBB Invest in Berlin. "You can't yet say what the growth is going to look like and where it's really going to come from. I just don't know if wealth management really is the panacea."
The shares dropped as much as 5.2 percent and were 3.9 percent lower as of 4:36 p.m. in Zurich. The STOXX Europe 600 Banks Index fell 0.8 percent.
Profit Falls
Credit Suisse will raise 6.05 billion Swiss francs ($6.3 billion) by selling 1.35 billion francs of stock to select shareholders and 4.7 billion francs of shares to existing investors as regulators in Switzerland prepare to require larger capital buffers. The company "assumes" that Switzerland will raise its leverage ratio to 5 percent, Thiam told reporters. He didn't say more about who the select investors were.
"We are rebooting the company, we are solving our capital issues," Thiam, 53, said in an interview with Bloomberg Television. "One of our objectives coming in was to take capital off the table to raise enough capital so that this would not be again a topic of conversation at quarterly results."
The bank on Wednesday said third-quarter profit fell, missing analyst estimates, in part because of a bigger-than-expected drop in handling clients' money, the business the company wants to expand. The bank will take a "substantial impairment" charge in the fourth quarter as it writes down goodwill in the investment bank, Chief Financial Officer David Mathers told investors in London.
Swiss IPO

Credit Suisse aims to sell 20 percent to 30 percent of its Swiss bank in an IPO by 2018, estimating the sale would raise between 2 billion francs and 4 billion francs. The IPO would allow Credit Suisse to buy private banks that will probably come up for sale, Thiam said. The goal is to create a bank focused on wealthy private, corporate and institutional clients, it said.
Credit Suisse aims to return to investors 40 percent of the excess capital expected to reach 23 billion francs to 25 billion francs by 2020. The payout is low and will be seen as disappointing, according Nomura Holdings Inc. analysts led by Jon Peace.
As part of a broad reorganization that includes a management shakeup, Credit Suisse will cut 3.5 billion francs in costs by the end of 2018.
The bank is creating three regionally-focused divisions and dividing the securities unit into a markets business and an investment banking operation to be run by Tim O'Hara and Jim Amine. Credit Suisse named Helman Sitohang and Iqbal Khan among six new board members as Gael de Boissard, Hans-Ulrich Meister and Robert Shafir step down.
Credit Suisse said it will begin by shrinking its capital-intensive macro business down to about a quarter of its size by the end of the year while cutting in half the amount of risk-weighted assets at the prime services unit, which caters to hedge funds.
 "The market's reaction is , 'Yes, we like what you're doing, but show us the money,"' Andrew Parry, head of equities at Hermes Investment Management, told Bloomberg Television. "They'll have to deliver on that."
Net income in the third quarter decreased 24 percent to 779 million francs from a year earlier. The average estimate of seven analysts in a Bloomberg survey was for 858 million francs. Net revenue from fixed-income sales and trading plunged 53 percent to 674 million francs as "extreme dislocations" in credit markets resulted in lower client activity, the bank said.
Private banking and wealth management posted 647 million francs in pretax profit, down 31 percent, Credit Suisse said. That missed an average estimate of 896 million francs. Clients trades less and trading and commissions fell, the bank said.
Credit Suisse struck a deal allowing Wells Fargo & Co. to hire the Swiss lender's private-bank employees in the U.S. as the firm retreats from managing wealth in the country.
"Thiam was brought into the bank as CEO to downsize the investment bank, grow in Asia and better control costs," Dirk Becker, an analyst at Kepler Cheuvreux said in a note. "He is delivering on all these expectations with the strategy announcement, but there is no tangible breakthrough on top of it."
(Updates with impairment charge in eighth paragraph.)