Credit Suisse Cuts Thousands of Jobs in Shakeup
by and
Bank pares macro, prime services; fixed-income revenue plunges

CEO Tidjane Thiam is latest European bank boss to scale back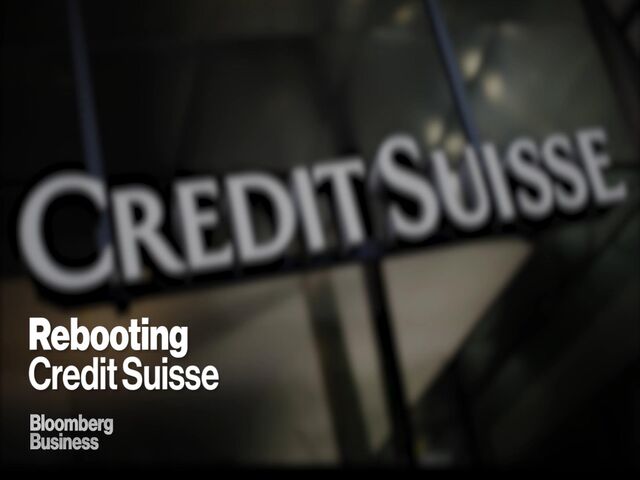 Credit Suisse Group AG became the latest European securities firm to overhaul its trading and advisory units after a bigger-than-estimated revenue drop compounded pressure from regulators to increase buffers against potential losses.
The Zurich-based lender will separate trading from its underwriting and advisory businesses and eliminate as many as 2,000 positions in London as it boosts its focus on Switzerland and wealth management, according to statements Wednesday. The division will be run by Tim O'Hara, Jim Amine and Helman Sitohang, with Gael de Boissard, 47, and Robert Shafir, 57, leaving the executive board as part of a wider management overhaul.

Chief Executive Officer Tidjane Thiam joins counterparts at Deutsche Bank AG, Barclays Plc and UBS Group AG in pulling back from some trading operations as regulators force them to increase the amount of funds they hold as protection against possible losses. Pressure from lawmakers has dovetailed with volatility in global markets, as investors hold back from buying and selling assets amid concern about a slump in the price of oil, the outlook for higher interest rates in the U.S. and the strength of the Chinese economy.
Cryan's Overhaul
"European banks who split up their investment banks give me the impression that they're telling the market that they have one business they plan to invest in, and one which is going to shrink or could later be sold or merged," said Lutz Roehmeyer, who helps manage 11 billion euros ($12.5 billion) at LBB Invest in Berlin.
The bank also distributed the responsibilities of running the investment bank to three people. O'Hara, 51, an equities banker, will lead sales and trading in the Americas and Europe, Middle East and Africa, while Amine, 56, will take over advisory and underwriting in those regions. Credit Suisse also named Sitohang and Iqbal Khan among six new board members to reflect the shift in focus, with Hans-Ulrich Meister stepping down. Sitohang, 49, will run the entire investment bank and private bank in Asia.
Thiam's restructuring comes days after Deutsche Bank co-CEO John Cryan split the Frankfurt-based lender's corporate banking and securities unit. Some of the bank's most senior executives departed in a management overhaul including Colin Fan, the co-head of the investment banking and trading unit.
'Extreme Dislocations'
Credit Suisse investment bank posted a pretax loss of 125 million francs ($131 million) in the three months through September after a profit of 516 million francs a year earlier. That's the first shortfall since the fourth quarter of 2014.
Net revenue at the fixed-income business plunged 53 percent to 674 million francs as "extreme dislocations" in credit markets resulted in lower client activity, the bank said. Analysts had expected revenue of about 1.2 billion francs for the quarter, according to a survey by Bloomberg News.
Credit Suisse will pull back from its "macro" business, which includes trading assets tied to interest rates and currencies, shuttering units across Europe and Asia, Thiam said at an investor event in London. The bank will cut its risk-weighted assets across this business to $5 billion by the end of a year, a reduction of 72 percent from the end of June.
At the macro business, the bank will keep "a small team in the U.S.," Thiam said in the presentation to investors. "My experience is that it is one of the few ways you make sure that cost is also taken out, because the activity is gone and all the infrastructure that goes with it is gone."
Thiam will also target prime services, which caters to hedge fund clients, by cutting risk-weighed assets in half to $7 billion, for the same period, Credit Suisse said.
"Scaling back capital devoted to this division will help to focus the bank's resources on its strengths," said Andre Spicer, a professor at Cass Business School at City University in London. "Restructuring and downsizing is the flavor of the month in investment banking."
Before it's here, it's on the Bloomberg Terminal.
LEARN MORE