Five Things Everyone Will Be Talking About Today
It's been a busy morning already - get caught up here
by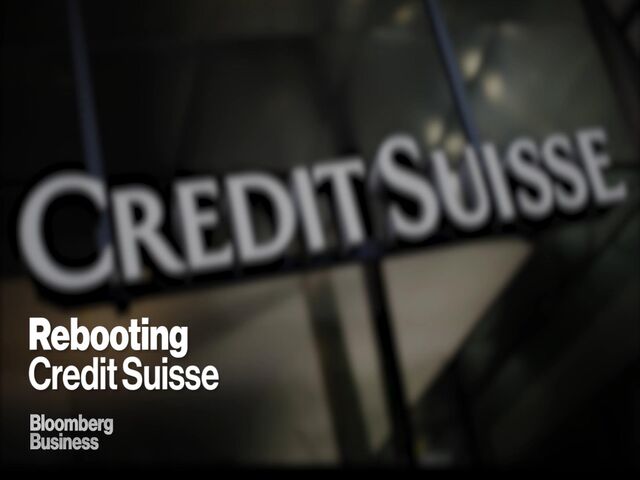 Credit Suisse reboots, Chinese stocks slide and the IMF says the clock is ticking for Saudi Arabia. Here are some of the things people in markets are talking about today.
Credit Suisse
Credit Suisse Group AG reported worse than expected third-quarter results with net income falling 24 percent and the investment bank posting a pre-tax loss of 125 million francs. Separately, the bank announced a plan to raise $6.3 billion in new capital and a corporate reorganization, or what Chief Executive Officer Tidjane Thiam has called "rebooting the company." Shares dropped as much as 5.2 percent and were 3.2 percent lower as of 11:45 a.m. in Zurich.
Chinese stocks slide 
Chinese stocks fell the most in a month, with the Shanghai Composite Index closing down 3.1 percent and the ChiNext index of smaller companies plunging 6.6 percent after rallying in recent days. The ChiNext trades at a multiple of 71 times reported earnings which is making some analysts nervous. Zhang Gang, a strategist at Central China Securities Co. in Shanghai, says the index has risen too fast recently and that "valuations are indeed expensive."
IMF warns on Gulf state spending
Saudi Arabia, Bahrain and Oman may run out of the financial assets needed to support spending at current levels in five years, the IMF has warned. It expects Saudi's budget deficit to rise to 20 percent of GDP this year, with Oman and Bahrain running 17.7 percent and 14.2 percent deficits respectively. With Saudi Arabia getting around 80 percent of its revenue from crude oil, the situation will only improve if the price of the commodity recovers. West Texas Intermediate crude fell 1.4 percent to $45.65 a barrel at 11:00 a.m. in London.
Brazilian moves to impeach Rousseff
A group of high-profile lawyers plans to file a request today to begin impeachment proceedings against Brazilian President Dilma Rousseff. Alberto Ramos, chief Latin America economist for Goldman Sachs Group Inc. says that "nobody can claim to know what's going to happen next," as today's move is only the first step in a drawn-out process which could take up to eight months. The Brazilian real declined 0.5 percent to 3.9053 per dollar, and is down 32 percent this year.
Japan reports surprise trade deficit
Japan's trade deficit for September was 114.5 billion yen ($955 million), compared with expectations for a surplus of 87 billion yen, driven by the slowest pace in export growth in more than a year. Increased shipments to the U.S. and Europe were more than offset by a 3.5 percent drop in exports to China. Japan's Topix index advanced 1.8 percent to the highest level since August, as the data increased expectations of further stimulus from the Bank of Japan at its Oct. 30 meeting.
What we've been reading
This is what's caught our eye over the last 24 hours.
 Want to receive this post, and more, into your inbox every morning? Sign up here
Before it's here, it's on the Bloomberg Terminal.
LEARN MORE