Credit Suisse Profit Misses Estimates on Investment Bank
By and
Fixed income trading revenue declined 53% in third quarter

Bank saw `significant' decline from emerging-market clients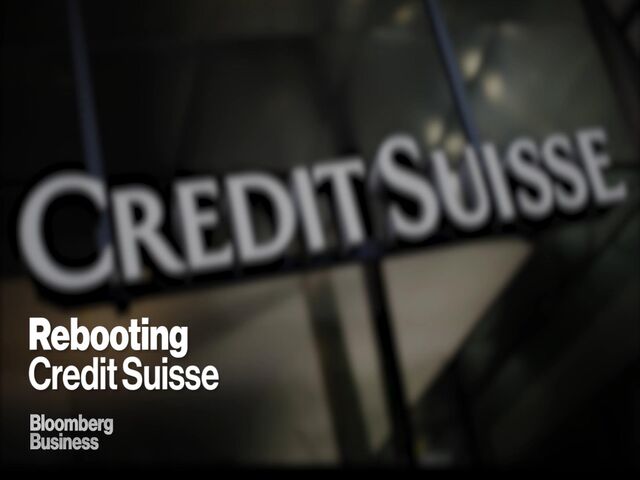 Credit Suisse Group AG reported third-quarter profit that missed analyst estimates because of a loss in the investment bank and a bigger-than-expected drop in private banking and wealth management. The shares fell.
Net income decreased 24 percent to 779 million Swiss francs ($815 million) from 1.03 billion francs a year earlier, the Zurich-based company said in a statement Wednesday, citing a "challenging market environment and lower client activity." The average estimate of seven analysts in a Bloomberg survey was for 858 million francs.
The investment bank posted a pretax loss of 125 million francs, contributing to a year-on-year decline in return-on-equity to 7.1 percent from 9.7 percent in the third quarter.
"The results were shocking and fixed-income trading in particular was a disaster," said Alevizos Alevizakos, a London-based analyst with Keefe, Bruyette & Woods. "Investors will mainly be focusing on today's strategy announcement."
The stock fell as much as 4.5 percent and was trading 2.7 percent lower at 24.23 francs at 9:10 a.m. in Zurich.
Chief Executive Officer Tidjane Thiam, brought in to rebuild investor confidence, is seeking to boost returns under pressure from tougher capital requirements and record-low interest rates. A market rout over the summer ensnared assets from junk bonds to emerging-market currencies, denting results at U.S. banks.
In a separate announcement on Wednesday, Credit Suisse said it plans to increase its capital by about 6.05 billion francs, including a rights offering and a private placing. It also outlined plans for 3.5 billion francs of cost savings by the end of 2018 and other strategic measures.
Credit Suisse's investment bank pretax loss missed an estimate for a pretax profit of 308 million francs for the third quarter. Revenue from underwriting and advisory declined 30 percent to 635 million francs as securities issues slowed across the financial industry.
Net revenue from fixed-income sales and trading plunged about 53 percent to 674 million francs as "extreme dislocations" in credit markets resulted in lower client activity, according to a company presentation. Equity sales and trading gained 9 percent to 1.17 billion francs, helped by increased market volatility and higher trading volumes, the bank said.
Private banking and wealth management posted 647 million francs in pretax profit, down 31 percent, Credit Suisse said. That missed an average estimate of 896 million francs. The wealth-management client business, the biggest part of the division, posted pretax profit of 477 million francs, down 11 percent.
Credit Suisse saw a "significant decline" in emerging markets compared with the third quarter of 2014 due to subdued client financing volumes and trading activity, according to the presentation.
Revenue declined in the Asia-Pacific, Europe, Middle East and Africa and Americas regions, while Switzerland posted a 1 percent increase. The EMEA and Americas regions weren't profitable before taxes.
Credit Suisse is targeting a higher portion of business from affluent Asian families and entrepreneurs from emerging markets. Wealth management clients from the Asia-Pacific region contributed double-digit percentage growth in net new assets in the third quarter, according to the presentation.