Chris Rock to Host 88th Academy Awards on ABC
by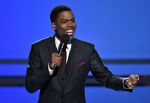 Comedian Chris Rock was named host of the 88th Academy Awards, his second turn as emcee of the film industry's annual Oscar telecast.
Producers David Hill and Reginald Hudlin announced the appointment in an e-mail Wednesday. The Oscars are scheduled for Feb. 28 and will be carried live in the U.S. on Walt Disney Co.'s ABC TV network.
Rock, the former "Saturday Night Live" star who also created the sitcom "Everybody Hates Chris," previously hosted the Oscars in 2005. The annual Oscars ceremony is Hollywood's biggest night, and is typically among the most-watched television events each year. Hosts are scrutinized for every aspect of their performance. In February, Neil Patrick Harris delivered the smallest audience in six years.
"The audience of Oscars telecast is getting older and the ratings of major award shows dropped in the past year," said Brad Adgate, head of research for media-buying firm Horizon Media. "It has become recently a thankless job with all the criticism."
Rock, 50, whose career spans more than three decades, most recently directed the comedy special "Amy Schumer: Live at the Apollo," which premiered this month on HBO.
"Chris Rock is truly the MVP of the entertainment industry," Hill and Hudlin said in the statement. "He's done it all. He's going to be a phenomenal Oscar host!"
The Academy of Motion Picture Arts & Sciences hired new producers for the show earlier this year. The TV ratings can fluctuate based not only on the host's performance, but also which movies are up for awards and other factors. This year's slate of nominees was criticized for a lack of diversity, spawning comments online tagged with "OscarsSoWhite."
The 2016 event will be held in Los Angeles and televised live in more than 225 countries.
Before it's here, it's on the Bloomberg Terminal.
LEARN MORE