Coca-Cola Profit Tops Analysts' Estimates, Helped by Cost Cuts
by
Adjusted profit of 51 cents a share tops analysts' estimates

Currency effects hurt sales more than expected, CFO Says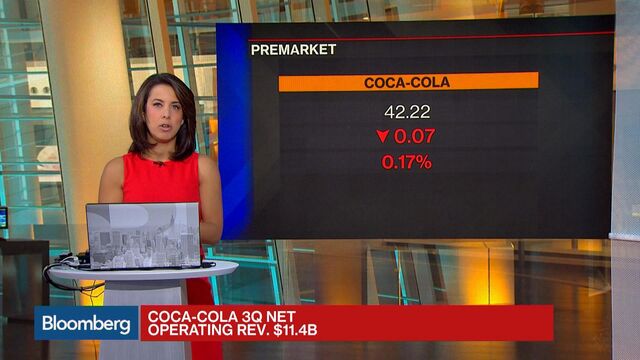 Coca-Cola Co. posted third-quarter revenue that trailed analysts' estimates as the strong dollar hurt sales abroad, putting pressure on Chief Executive Officer Muhtar Kent to maintain an aggressive cost-cutting program.
Revenue fell 4.6 percent to $11.4 billion, the Atlanta-based company said in a statement Wednesday. Analysts estimated $11.6 billion, on average. Currency effects reduced sales by 8 percentage points, more than the 7 percent Coca-Cola had forecast.
Kent has been working to counter the currency headwinds and declining consumption of soda by trimming $3 billion in annual expenses and plowing some of the savings back into increased marketing and developing new products. Coca-Cola also is weathering the storm by selling smaller containers of its beverages at higher prices per ounce and revamping its bottling system to improve profitability.
Macroeconomic factors are "challenging, but we remain focused on improving execution," Chief Financial Officer Kathy Waller said in an interview. "We are aggressively driving productivity and streamlining the business so we can make sure that we can fund investments to accelerate growth."
Profit Beats
The efforts have helped cushion the blow to the bottom line. Profit was 51 cents a share, excluding some items, topping analysts' 50-cent average projection. Net income fell 31 percent to $1.45 billion, or 33 cents a share, from $2.11 billion, or 48 cents, a year earlier.
Coca-Cola dropped 0.2 percent to $42.19 at the close in New York. The stock is little changed this year.
Coca-Cola and peers PepsiCo Inc. and Dr Pepper Snapple Group Inc. have faced declining soda sales in recent years in developed markets, hurt by concerns about sugar and artificial sweeteners. While unit case volume of Coca-Cola's sparkling beverages rose 2 percent globally in the quarter, sales by that measure fell 1 percent in North America. Coca-Cola's efforts to boost prices lessened some of the impact, adding 3 percentage points to revenue globally.
Beyond Soda
With soda sales struggling, the company is looking beyond its traditional beverages for growth. Coca-Cola invested in Suja Life LLC, an organic-juice maker, in August with an option to buy the balance of the company in three years. Coca-Cola previously bought a stake in energy-drink maker Monster Beverage Corp. and Keurig Green Mountain Inc., which sells single-serving coffee and cold drink pods.
Coca-Cola also is working to improve its margins by divesting its bottling operations. The beverage maker's primary business -- selling concentrates and syrups to the companies that manufacture, package and distribute the drinks -- is more profitable than capital-intensive bottling. Coca-Cola said last month that it plans to sell nine U.S. production facilities with a combined book value of about $380 million. The company said Wednesday that it had letters of intent with three U.S. bottlers to grant expanded distribution territories in seven states.
"A lot of the things Coke is doing now, they should have literally done 10 years ago," Nik Modi, an analyst at RBC Capital Markets, said in an interview. "This is stuff that should have been done, and they're finally doing it."
Before it's here, it's on the Bloomberg Terminal.
LEARN MORE