CIT's Thain to Step Down as CEO as Lender Seeks Asset Sales
by and
Successor Ellen Alemany to become one of industry's top women

Controller Carol Hayles to become finance chief on Nov. 1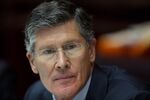 John Thain, the Wall Street banker who rebuilt CIT Group Inc. after the financial crisis, is stepping down as chief executive officer and handing the reins to Ellen Alemany to grow the business.
Alemany, a CIT board member and former senior executive at Royal Bank of Scotland Group Plc, will take over at the end of March, becoming one of the most senior women in U.S. finance. Thain plans to stay on as chairman.
CIT also announced its intent to sell lending operations in Canada and China and explore strategic options for a $10 billion Commercial Air business that manages a fleet of more than 350 commercial aircraft.
In an interview, Thain said he's moving on after completing CIT's turnaround and honing its focus on U.S. commercial lending. He overhauled the company's financing, rebuilt relations with regulators, reinstated shareholder payouts and completed a $3.4 billion acquisition of OneWest Bank. That takeover, approved by authorities in August, gives the firm more access to retail deposits, a cheaper source of funding that can help boost profitability.
"My job's kind of done," said Thain, 60. Alemany's "whole career is really running or being part of a commercial-banking operation. She understands our businesses and she has the leadership skills and vision to lead the company forward."
Leadership Changes
Thain, the former CEO of Merrill Lynch & Co. and previously a top executive at Goldman Sachs Group Inc., was named to run CIT in 2010 as the company emerged from bankruptcy. He said he's been discussing his departure with the board for about six months and that he plans to retire and spend more time with his 2-year-old granddaughter.
His exit and other leadership changes announced by CIT on Wednesday elevate women to two of the firm's top management posts, with controller Carol Hayles taking over as chief financial officer on Nov. 1. The bank had said earlier this week that CFO Scott Parker will leave in November to take the same role at Springleaf Holdings Inc. Vice Chairman Steven Mnuchin also will step down at the end of March and remain on the board, CIT said Wednesday.
Alemany, 59, has been a director since January 2014, according to the statement. She previously led RBS's Americas business and was CEO of RBS Citizens Financial Group Inc. Prior to that, she served as CEO of Citigroup Inc.'s global transaction services division and held a number of other senior positions with the lender. She has an MBA in finance from Fordham University.
Only two other women run a U.S.-based commercial bank with more than $45 billion in assets, KeyCorp's Beth Mooney and Synchrony Financial's Margaret Keane, according to data compiled by Bloomberg. Even though women hold more than half of the jobs in financial services, they account for less than a third of executive and senior-level positions, according to research firm Catalyst Inc.
'No Credit'
CIT's shares have climbed about 30 percent since Thain took the helm. Still, they're down 17 percent this year. That lags behind the 91-company S&P Regional Banks Select Industry Index, which has climbed 3.6 percent.
The performance lately has been frustrating for investors, and probably for Thain, said Henry Coffey, an analyst at Sterne Agee & Leach Inc.
"I'm a huge fan of what they've accomplished -- I watched it nickel by nickel, step by step," Coffey said. "Almost every single quarter since the bankruptcy, they have delivered positive steps forward in value creation, and the market's given them no credit at all for it."
The purchase of OneWest Bank also presents new challenges. The transaction lifted the company's assets above $50 billion, a threshold regulators use for designating systemically important financial institutions that require additional oversight. While exiting some businesses might put CIT back below that level, Thain said the moves have more to do with simplifying the bank and generating higher returns.
"We've been preparing to be a SIFI anyways," he said. "Even before we did the OneWest transaction, we were right under $50 billion, and growth would take us over."
Before it's here, it's on the Bloomberg Terminal.
LEARN MORE