Poloz Dials Back Optimism Even as Trudeau Plans Fiscal Stimulus
Greg Quinn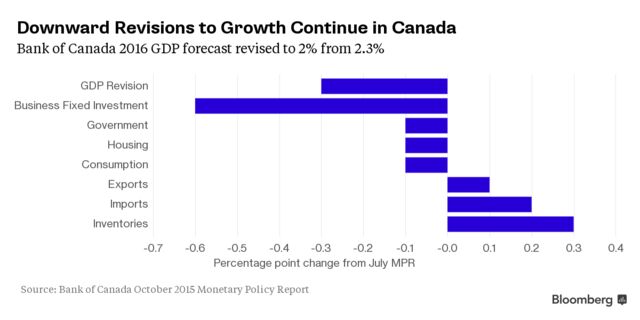 The Bank of Canada toned down optimism for a rebound from an oil-price collapse, cutting its growth forecast for the next two years even as the country's new government pledges to kick-start the economy with more fiscal stimulus.
Policy makers cut their 2016 growth forecast to 2 percent, from 2.3 percent, indicating capital spending by oil and gas firms will probably fall 20 percent next year as weakness in commodity prices persists. The bank held its benchmark rate at
0.5 percent, as economists had expected.
The downbeat quarterly forecast triggered the biggest drop in the Canadian currency in three months and pushed bond yields lower as investors speculated an oil-price shock may last longer and have wider implications than the bank initially foresaw, even with the additional government spending.
"It's pretty clear they don't think this is behind us, it's still a drag," said Jimmy Jean, a strategist in the fixed-income group at Desjardins Capital Markets.
The http://bloom.bg/1hTnDXK via @business" LTIP="Link to MPR">overview comes two days after an election that brought Justin Trudeau's Liberals to power with a mandate to embark on deficit spending to counteract damage from an oil-price shock.
Fiscal Stimulus
Poloz turned aside several questions at a press conference Wednesday about how Trudeau's new spending could offset the global weakness seeping into Canada, saying it depends on when the exact plans reach Parliament. The monetary policy report released today doesn't include any impact from the C$25 billion ($19 billion) fiscal-easing measures proposed by Trudeau, who was elected Monday to a sweeping majority over Prime Minister Stephen Harper's Conservatives.
"A pure fiscal shock is relatively easy to analyze, but of course the world is a lot more complex than the simple models we carry around," Poloz said.
Poloz lowered rates earlier this year as the oil shock took hold, while the Conservative government stuck to a plan to remove stimulus by eliminating a budget deficit. He said Wednesday the previous monetary stimulus is still working through the system and there are signs of a export recovery outside of commodities.
The central bank's forecast was drawn up before the election results and the shift to more deficits "isn't meaningful enough for the Bank of Canada to change its course," said Jean of Desjardins.
Currency Reaction
The statement from the Bank of Canada, combined with weakness already seen in the commodity bloc Wednesday, triggered a decline in the Canadian dollar.
Canada's currency weakened 1.1 percent, the most since July, after the report to C$1.3129 per U.S. dollar at 3:45 p.m. in Toronto. Yields on two-year government bonds fell 3 basis points to 0.53 percent.
The global commodity slump "is still the lead story here," Bank of Montreal chief economist Doug Porter said by phone from Toronto. Still, Trudeau's stimulus would add about half a percentage point to growth next year, Porter estimated.
"If the new federal government does stick to their platform, that does reduce the need for another rate cut by the Bank of Canada and bring forward the day at which it may need to raise rates," Porter said.
Oil Drop
The drop in oil prices to about $50 a barrel will cut three-quarters of a percentage point off Canada's growth rate this year, leaving it at 1.1 percent, the central bank said Wednesday. Lower gasoline prices are keeping the "trend" of inflation at between 1.5 percent and 1.7 percent, below the bank's 2 percent target. The economy should return to full capacity around mid-2017.
Output "contracted modestly" in the first half of the year and "has rebounded" since then, the Bank of Canada said. The recovery is also being supported by U.S. demand, and resilient consumer spending.
Gross domestic product grew at an annualized pace of 2.5 percent in the third quarter, the bank said, up from the July prediction of 1.5 percent. Output was boosted by spending from family-benefit checks from the outgoing Conservative government, which began arriving in Canadian mailboxes in July. The central bank cut its forecast for fourth-quarter growth to 1.5 percent, from 2.5 percent.
Energy Companies
Growth for all of 2015 will come in at 1.1 percent, unchanged from the bank's July forecast, and the 2017 projection was lowered to 2.5 percent from 2.6 percent. Canada's economy contracted in the first half of this year.
Energy companies such as Suncor Energy Inc. will cut their investment spending by 40 percent this year and 20 percent next year, the bank estimates. That investment will be flat in 2017.
All 28 economists surveyed by Bloomberg predicted no interest rate move Wednesday.
Cutting rates again to boost the economy would come at a cost: the core inflation rate has been above the bank's 2 percent target since August 2014, and lower rates could add to existing strains from record high home prices and consumer debt burdens.
The bank reiterated Wednesday that household imbalances have crept up, and they should "stabilize" over the next few quarters.
Before it's here, it's on the Bloomberg Terminal.
LEARN MORE