Brazil's Real Drops on Reports Government Planning for Deficit
by
Budget shortfall may reach as much as 90 billion reais: Folha

High-profile lawyers filed an impeachment request this morning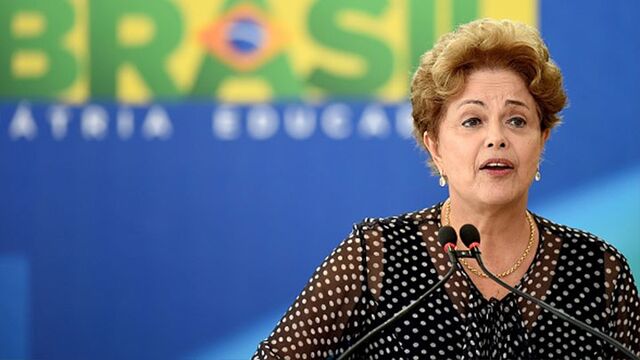 Brazil's real fell for a second day on speculation the government will change this year's budget target to a deficit from a surplus, underscoring its inability to shore up the country's finances.
All four of Brazil's largest newspapers now report that the government will revise this year's budget target for a third time, forecasting a deficit excluding interest payments that may surpass 50 billion reais ($13 billion). The deficit may reach 90 billion reais in the worst scenario, which includes the government paying off all its debts to public banks, Folha de S. Paulo reported without saying where it obtained the information.
The budget outlook added to gloom surrounding the world's worst major currency, which extending its decline since the end of December to 33 percent. President Dilma Rousseff is struggling to win support for austerity measures she says are needed to restore the country's fiscal health amid calls for her impeachment related to the way she accounted for government finances in 2014 and 2015.
"This is yet another domino which is falling in Brazil," said Bernd Berg, director of emerging-markets strategy at Societe General in London. "Amid the continuation of negative domestic news and the deterioration of the external backdrop for high-yielding currencies, the real will come under significant pressure and surpass 4 per dollar over the next two weeks."
The real dropped 0.9 percent to 3.9404, the largest decline among 16 major currencies after the South African rand and the Canadian dollar.
Rousseff asked members of her economic team for ways to make 2016 fiscal target more flexible, newspaper Valor Economico reported Wednesday, citing two people it didn't identify. Finance Minister Joaquim Levy is against this idea as it would send a message of lack of commitment to fiscal austerity, Valor wrote.
Three high-profile Brazilian lawyers, including a former member of the ruling party, filed a request Wednesday to open impeachment proceedings against President Rousseff on allegations she doctored fiscal accounts.
Lower house President Eduardo Cunha, a vocal critic of Rousseff, received the request and now must decide whether to accept the plea. If he accepts the petition, it will set in motion a protracted legal process that could result in the president's removal from office.
The petition has garnered attention in the local media and Congress given its broad support from government rivals and the clout of its authors. Rousseff denies wrongdoing and likens efforts to remove her from office to a coup.
Brazil's inflation as measured by the IPCA-15 index accelerated to 9.77 percent, the fastest since 2003, in the 12 months through mid-October, the national statistics agency said on its website Wednesday. The median estimate of 33 economists in a Bloomberg survey was for 9.79 percent.
The tumbling real is driving faster inflation despite the highest borrowing costs in nine years. The central bank will refrain from tightening monetary policy further on Wednesday, according to economists surveyed by Bloomberg, leaving the Selic rate at 14.25 percent.
Swap rates on the contract maturing in January 2017, a gauge of expectations for interest-rate moves, rose 0.14 percentage point to 15.44 percent.
Before it's here, it's on the Bloomberg Terminal.
LEARN MORE