Brazil's Ex-Guerrilla-in-Chief Isn't Going Down Without a Fight
by and
Back in the 1970s, Rousseff was unbent by severe torture

She emerges from state of paralyisis now to fight impeachment
For much of the past year, as Brazil plunged into economic and political crisis, President Dilma Rousseff seemed cornered in her bunker. Bookish and awkward, she rarely left the presidential palace, poring over infrastructure reports, focusing on the technical side of painful austerity measures.
But in recent months, as opposition efforts to impeach her gained momentum, something in her visibly shifted. Rousseff, a former urban guerrilla who refused to break under prolonged torture, snapped out of her state of paralysis. With the crisis now focused on her, she seems to be sending a message: I will not make it easy and step aside.

"I'm not going down," she told the newspaper Folha de S. Paulo in July. "If there is something I am not afraid of, it is this."
Recovered her Temper
Since then, she has boosted her public appearances, personally negotiated support with legislators, reshuffled her cabinet and delivered some of her strongest rebuttals. She has recovered her temper, blasting aides for delays or flaws, according to one official close to her who requested not to be named.
The tenacity that led Rousseff, 67, to fight against military dictatorship as a young woman now makes her cling to power with remarkable serenity. This is despite the longest projected economic crisis since the Great Depression, the lowest approval ratings on record of any president and accusations she illegally financed her election campaign and used accounting tricks to whitewash budget figures.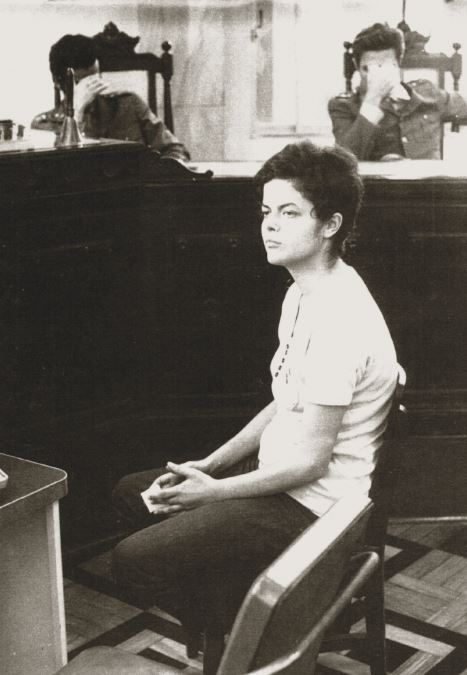 "She doesn't think she did anything wrong and resigning would be for her an admission of guilt," said Joao Augusto de Castro Neves, Latin America director of political-risk consulting firm Eurasia Group. "She will go to the end." 
In just two days last week, she attended as many public events as in some months earlier this year. After being criticized for skipping Labor Day celebrations on May 1 to avoid the risk of being jeered, she gave one of her most fiery speeches at an Oct. 13 event during Brazil's main union confederation.
Coup Attempts
"I rebel against these coup attempts and conspiracy actions, and don't fear their supporters," Rousseff told the cheering crowd of unionists in Sao Paulo. "I ask with all candor: Who has the moral authority, clean reputation and biography to attack my honor?"
Her argument hangs partly on the context of Brazilian politics. More than a quarter of the deputies in the lower house face criminal lawsuits or probes before the Supreme Court, according to Congresso Em Foco, an online publication that specializes in legislative news.
The attacks on Rousseff have not only helped her recover her fighting spirit. They also seem to have revived her personally. She has kept up a rigid diet and exercise plan, cycling the streets of Brasilia at the crack of dawn, losing 15 kilograms (33 pounds). She may be under siege but she has rarely looked better or healthier.

Rousseff has a history of bouncing into action when things get tough. A year after struggling through treatment of lymphoma in 2009, she won election to the presidency. Her father was a successful Bulgarian immigrant, and she grew up relatively well off, buried in books. While still a high school student, she joined underground groups that carried out armed bank robberies and kidnappings of politicians as part of a plan to overthrow the military regime.
Barbaric Torture
Following her arrest and what she said was "barbaric torture" during nearly three years of prison, she earned her economics degree and started a long civil-service career in jobs traditionally held by men, including as state finance secretary, energy minister and chief of staff to former President Luiz Inacio Lula da Silva.
Asked about her image as an iron lady, she once said with uncharacteristic wit, "It's true: I'm a tough woman surrounded by sweet men."
Whether such last-minute rallying will save her is far from clear. Giving speeches at labor unions and the inauguration of low-income housing may help boost her approval ratings a bit but won't change the overall picture of a micromanager struggling to put the economy back on track, said Carlos Manhanelli, a Sao Paulo-based electoral marketing consultant. "These are catchphrases that may bump her ratings a bit but they won't cause any miracle."
Before it's here, it's on the Bloomberg Terminal.
LEARN MORE