Brazil's Disarray Seen Crippling Central Bank as Inflation Soars
by
`The central bank can't increase rates now,' Banco Safra says

Inflation expectations rising even as recession deepens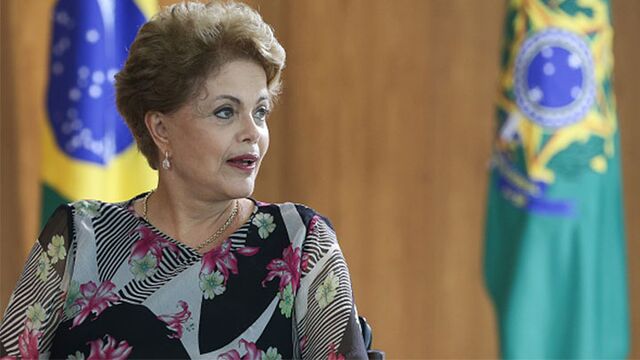 More and more, the political and economic crises consuming Brazil have traders questioning whether Alexandre Tombini can do much to rein in inflation.
With Brazil falling deeper into recession, they've scaled back expectations that Tombini, the nation's chief central banker, will raise interest rates fast enough to slow inflation, which is already running at more than double the central bank's target of 4.5 percent. They now see him holding rates at 14.25 percent on Wednesday before boosting them a quarter-point in November. As recently as Oct. 1, they saw successive half-point increases.

As a corruption investigation in Congress and a push to oust President Dilma Rousseff prevent the government from implementing measures to revive the economy, traders are signaling that Tombini has few options. Until legislators and government officials act to break the stalemate, the central bank will be hard pressed to raise rates without exacerbating the recession, said Carlos Kawall, chief economist at Banco Safra.
"Killing the economy to bring inflation down faster wouldn't be the best policy," said Kawall. "The central bank can't increase rates now."
Tombini has signaled he agrees that now isn't the time for higher interest rates, as Brazilians balk at the prospect of even higher borrowing costs on the economy. He held the line last month following seven straight increases, leaving it at 14.25 percent -- the highest in nine years and higher than any other Group of 20 nation.
The press office of the central bank, which will announce its latest rate decision after 6 p.m. local time in Brasilia, declined to comment when asked how the political crisis will influence policy.

Policy makers are smart to wait out the crises until there's more clarity in Brazil, said Thais Zara, chief economist at Rosenberg Consultores Associados. But they can't afford to dally, she said.
"They have to have a deadline, or they will again be responsible for acting too slow to prevent inflation from going up," according to Zara.
Brazil's real dropped 0.9 percent to 3.9404 per dollar on Wednesday.
Before it's here, it's on the Bloomberg Terminal.
LEARN MORE