Brazil October Mid-Month Inflation Speeds Up Less Than Forecast
by
Housing costs jump because of higher prices for natural gas

Highest borrowing costs in nine years haven't tamed inflation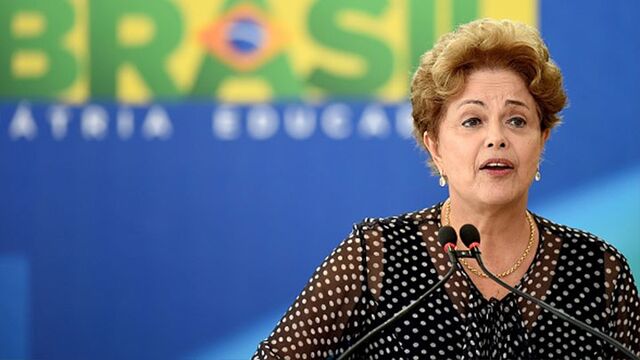 Brazil's inflation in the month through mid-October accelerated less than economists forecast, as the central bank maintains the highest benchmark rate since 2006 in the face of a deepening recession.
Inflation as measured by the IPCA-15 index accelerated to 0.66 percent from 0.39 percent a month earlier, the national statistics agency said on its website today. That was below the median 0.68 estimate from 40 analysts surveyed by Bloomberg. Annual inflation quickened to 9.77 percent from 9.57 percent, the fastest rate in almost 12 years.
The highest borrowing costs in nine years have yet to tame spiking inflation after Brazil's currency plunged. The central bank will refrain from tightening monetary policy further Wednesday, according to economists surveyed by Bloomberg, as the Selic rate at 14.25 percent damps investment, consumer confidence and demand.
Swap rates on the contract due in January 2017 rose four basis points, or 0.04 percentage point, to 15.34 percent at 9:06 a.m. local time. The real weakened 0.7 percent to 3.9334 per U.S. dollar.
Prices for food and beverages rose 0.62 percent after a 0.06 percent decline the previous month. Housing costs rose 1.15 percent, due to rising prices for natural gas, after a 0.68 percent increase in the month through mid-September.
Brazil's real has lost 32 percent against the dollar this year, the most among 16 major currencies tracked by Bloomberg, with the majority of the decline occurring in the past three months. That's fueling inflation by boosting import costs.
Inflation is now running at more than double policy makers' 4.5 percent target. Even so, central bank directors have repeatedly signaled they intend to keep rates on hold for a sufficiently prolonged period in order to slow consumer price increases to target by year-end 2016. The bank's president, Alexandre Tombini, said as recently as Oct. 9 that the monetary authority has made progress anchoring medium-term inflation forecasts.
Economists surveyed by the central bank have lowered their inflation forecasts for 2017 and 2018 to 5 percent and 4.7 percent, respectively, from 5.5 percent for each at the start of this year. Meantime 2015 and 2016 inflation expectations have climbed, and economists forecast the central bank will only attain its goal in four years time.
Before it's here, it's on the Bloomberg Terminal.
LEARN MORE