Nasdaq Futures Jump on Google, Amazon Earnings as ECB Sinks Euro
by and
Both tech companies surged after market as results surprised

Risk assets were in demand after Draghi's stimulus comments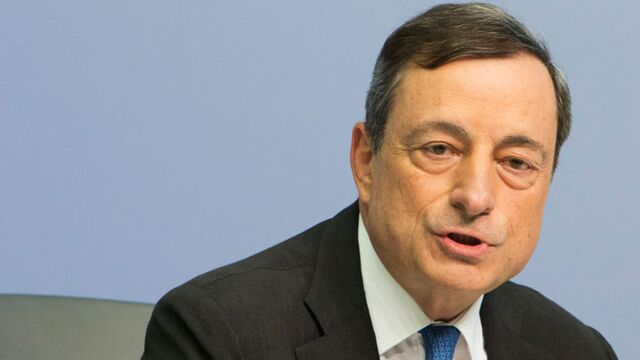 Technology stock futures surged amid better-than-expected earnings for Google Inc. and Amazon.com Inc. following a day when U.S. equities returned to their pre-correction levels. The euro slid amid signs the European Central Bank may bolster stimulus this year.
Google parent Alphabet Inc. and Amazon jumped more than 10 percent in extended trading, sparking a 3.5 percent surge in Nasdaq 100 Index futures. In the ordinary session, the Standard & Poor's 500 Index briefly rose to a level that left it more than 10 percent above its August low and returned to a range it traded within before China rattled markets by devaluing the yuan on Aug. 11. The euro tumbled to a two-month low after ECB President Mario Draghi said the bank will consider adding to its bond-buying program before the end of 2015 to support the economy. Oil rallied.

"It's definitely a risk-on day," Mark Kepner, an equity trader at Themis Trading LLC in Chatham, New Jersey, said by phone. "It's speculation around quantitative easing, thinking more stimulus in Europe could mean more growth and while it's not driving the market there may be speculation that it's something our Federal Reserve would do."
Google reported above-estimate sales and earnings, while Amazon posted an unexpected profit, burnishing a season that has seen retailers and lenders deliver more mixed results. The ECB became the latest central bank to signal a willingness to increase support for its economy amid signs of tepid inflation and slowing global growth. Oil to industrial metals benefited from Draghi's comments, while solid earnings from McDonald's Corp. and EBay Inc. during the normal trading day helped U.S. equities resume their October rally.
Draghi said euro-area officials will reexamine the scope of their quantitative-easing plan in December. The bond purchases, originally due to end next September, will continue until the ECB sees a sustained increase in the inflation outlook, he told reporters Thursday. Policy makers left key interest rates in the region unchanged.
Stocks
Nasdaq 100 e-mini futures due in December rose to 4,552.75 by the 5 p.m. close in New York, while contracts on the S&P 500 climbed 2.2 percent. Shares of Alphabet, the new holding company that encompasses Google, soared as much as 13 percent after hours as an increase in ad sales and restrained spending underpinned the third-quarter results. Amazon reported a 17 cents-a-share profit, amid analysts' expectations for a loss of 13 cents.
The S&P 500 closed up 1.7 percent at 2,052.51, bringing its rebound from an August trough to 9.9 percent. The gauge rose back into a range that stretched from about 2,040 to its all-time high of 2,130.82. Thursday's gain trimmed the index's loss in 2015 to 0.3 percent.
McDonald's jumped the most in seven years to extend a record high, and EBay capped its biggest advance since 2005. Dow Chemical Co. jumped 5.1 percent after its earnings topped forecasts, and Texas Instruments added 12 percent after better-than-estimated results. American Express Co. lost 5.2 percent after its earnings trailed analysts' forecasts.
Valeant Pharmaceuticals International Inc. sank 7.4 percent, extending its 19 percent rout from Wednesday. The company is facing more questions from investors over a business model that includes close ties to pharmacies that distribute its drugs, a rare arrangement in the industry. Short selling firm Citron Research published a report on Valeant Wednesday, sparking the losses.

As the ECB considers raising stimulus, the Federal Reserve is scrutinizing economic data ahead of its policy meeting next week. An increase in sales of existing U.S. homes to the second-highest level since 2007 provided another sign that the recovery in residential real estate is supporting growth. Separate data showed jobless claims last week hovered near the lowest level in four decades in a fresh indication of a firming labor market.
In Europe, Draghi's comments provided a shot in the arm for stocks, with the Stoxx Europe 600 Index climbing 2 percent for its highest close since Aug. 20. Concern over slowing global growth took the gauge just 2 percentage points away from a bear market last month. Since then, it's rebounded 9.1 percent.
Draghi "opened the door widely for an extension of QE," said Guillermo Hernandez Sampere, who helps manage about 150 million euros ($170 million) as head of trading at MPPM EK in Eppstein, Germany. "It was what the market wanted to hear. It will be a positive outcome for the equity market."
Futures on Asian equity indexes tracked the rebound in the U.S., with contracts on Japan's Nikkei 225 Stock Average up 2 percent in Osaka, while futures on stock gauges in Australia and Hong Kong jumped at least 0.9 percent.
Currencies
The euro fell against all 16 of its major counterparts, as stimulus tends to weaken a currency by expanding the monetary base.
The shared currency slid 2 percent to $1.1109 Thursday and lost 1.4 percent to 134.07 yen. Commodity-exporting nations' currencies got a boost from the ECB, with the New Zealand dollar, South African rand and Mexican peso all surging more than 2 percent versus the euro.
The Bloomberg Dollar Spot Index, a gauge of the U.S. currency against 10 major peers, rose 0.7 percent, the most since July. The gauge capped a sixth day of gains for its longest rally since March.
Bonds
Draghi pushed German two-year notes higher, cutting their yield to a record low of minus 0.32 percent. Ten-year Italian bonds also climbed, narrowing the yield difference, or spread, over similar-maturity German debt to below 100 basis points for the first time since March. Yields on U.S. Treasuries due in a decade were little changed at 2.03 percent.
Two-year U.S. yields fell after the Treasury Department postponed its Oct. 27 auction of the securities as lawmakers work toward a compromise to lift or suspend the ceiling on government borrowing. Rates slipped two basis points, or 0.02 percentage point, to 0.61 percent.
Ten-year Treasuries are the most expensive relative to other maturities in more than two years. The so-called butterfly spread measuring differences in yield between the 10-year note and the five- and 30-year securities has been around minus 17 basis points this week, the lowest level on a closing basis since May 2013.
Emerging Markets
The MSCI Emerging Markets Index fell a third day, losing 0.1 percent as worse-than-estimated corporate earnings in Russia to China overshadowed the ECB outlook. South Korean shares dropped 1 percent, while the Shanghai Composite Index rose 1.5 percent, rebounding from its steepest loss in a month. Turkish shares gained 0.4 percent.
Brazilian stocks led gains in the Americas after the central bank signaled it won't raise interest rates any time soon, bolstering prospects for companies that get most of their revenue from Latin America's largest economy.
Commodities
Oil rose for the second time in nine sessions after falling to a three-week low, while gasoline gained more than crude, widening refinery profits. West Texas Intermediate gained 0.4 percent to settle at $45.38 a barrel and Brent added 23 cents to end at $48.08. Data showed U.S. crude stockpiles expanded more than twice as much as forecast.
Copper climbed for the first time in five days as disruptions from a strike in Peru to slowing refined output added to speculation supply won't be as large as previously expected. Futures rose 1.1 percent to settle at $5,232.50 a metric ton in London. Zinc, nickel and lead also gained in London, while tin fell. Aluminum dropped to the lowest since 2009.
Gold traded little changed after reaching a one-week low as investors awaited signals on whether the Fed will boost interest rates this year. Futures for December delivery gained 0.1 percent to $1,167.80 an ounce in New York.
Before it's here, it's on the Bloomberg Terminal.
LEARN MORE