In Copenhagen, Apartment Prices Jump 60% After Rates Go Negative
By
Nykredit sees Copenhagen prices rising 12% this year alone

Housing collapse is still not main scenario as demand steady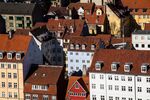 Here's what can happen to an economy that's three years into a half-decade cycle of negative interest rates:
Denmark's biggest mortgage bank says there's a "real risk" Copenhagen is heading into a property bubble.
Though a collapse isn't imminent, "the danger signals" mean that apartment prices in the Scandinavian city "could reach an unsustainable level relatively fast should the current pace of price gains continue," said Joachim Borg Kristensen, a housing economist at Nykredit.
Property prices in Copenhagen have risen 40-60 percent since the middle of 2012, when the central bank first resorted to negative interest rates to defend the krone's peg to the euro. The benchmark deposit rate has been minus 0.75 percent since February as Denmark's currency war intensified, and most analysts surveyed by Bloomberg see negative rates lasting at least through 2017. Borrowers in Denmark can get mortgages as long as 30 years for about 3 percent, while shorter-term loans carry rates close to zero.

Denmark's most recent housing bubble burst in 2008, with the subsequent price slide rivaling that seen in the U.S. subprime crisis. Thanks to generous welfare benefits, Danish households suffered only negligible foreclosure rates, unlike their U.S. counterparts.
But with record-low rates across Scandinavia, the whole region has come under scrutiny as its property markets heat up. The Danish regulator this month warned Danske Bank against pursuing a growth strategy in Sweden as the housing market there shows signs of imbalances. Price developments are now "highly distressing," Klas Danielsson, the chief executive officer of Sweden's state mortgage bank, SBAB, said on Thursday.
A Rerun?
In Copenhagen -- a bike-friendly, green-energy-loving city where Noma has spear-headed a gastronomic adventure that's made the Danish capital a destination for fine dining enthusiasts -- apartment prices rose as much as 11 percent in the first half of the year. Since then, the pace of gains has leveled off slightly, but prices are still set to rise about 12 percent this year on average, Nykredit estimates.
"Given the current prospects of urbanization, as well as the outlook for the economy and interest rates, housing prices look set to continue rising," Kristensen said. But that will probably happen at a "slower pace than has been the case thus far."
"Expectations are becoming more realistic," he said. That's why Nykredit's main scenario is that the development won't end in a bubble. Kristensen predicts prices in the Danish capital will rise about 5-6 percent in both 2016 and 2017.
PFA, Denmark's biggest commercial pension fund, said on Thursday it will invest as much as 4 billion kroner ($607 million) in the country's property market. It plans to treat the investment much like its bond portfolio, according to an e-mailed note. PFA is returning to the market after selling most of its property portfolio in 2006.
Meanwhile, developments in the market for building projects reveal a slightly riskier situation.
"The hefty growth in both prices and sales of building projects is a worry because it could be driven by an anticipation of continued housing price gains," Kristensen said. "The question is whether potential home buyers have exaggerated expectations when it comes to future price developments."
Though over-supply remains a factor in the rest of the country, that's not yet the case in Copenhagen, where owner-occupied flats for sale are still well below their pre-bubble bursting levels, he said.