Yum Brands to Separate China Business After Three Decades
by and
Slowing Chinese economy, food scandal triggered activist calls

Company plans to return `substantial capital' to investors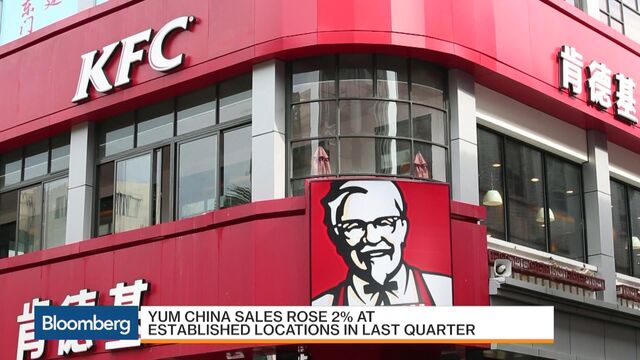 Yum! Brands Inc. bowed to activist-investor pressure and agreed to separate its China business from its U.S. operations, the biggest shake-up at the company since it was spun off from PepsiCo Inc. almost two decades ago.
Yum! China will become a franchisee of Yum in the Asian country, with exclusive rights to KFC, Pizza Hut and Taco Bell, according to a statement Tuesday.
The move follows calls from hedge fund manager Keith Meister, a protege of billionaire Carl Icahn, who has said Yum's Asian market could be better served with a more focused business and that the move could boost Yum's value by $7 billion. The fast-food giant added Meister, who owns about 5 percent of its shares, to the board on Oct. 16.
Sales in China for the Louisville, Kentucky-based owner of KFC and Pizza Hut have been hurt by food safety scandals and increasing competition from local fast-food chains. Meister, founder of hedge fund Corvex Management, said at an investor conference in May that the risks and opportunities for Yum in China are different than in the U.S., in part because most of its Chinese restaurants are company-owned and not franchised.
Speed Recovery
"Separating the business could help Yum speed up a recovery in same-store sales and profitability in China," said Bloomberg Intelligence retail analyst Thomas Jastrzab. "The new entity could focus all of its efforts on bringing back customers lost because of the supplier-related issues."
Yum rose 1.8 percent to $73.03 at the close in New York. The shares are now up 0.2 percent this year.
KFCwas the first international quick-service food chain to enter China, drawing crowds to Tiananmen Square for the opening of its restaurant in Beijing in 1987. The chain had recently been acquired by PepsiCo, which also owned Pizza Hut and Taco Bell. The soda maker in 1997 spun off the restaurant businesses as Tricon Global Restaurants Inc., which later changed its name to Yum.
Even as its corporate structure changed, the company went on to build a fast-food empire in China during the next three decades. The operation now reaches into more than 1,000 cities in the country and generates more than half of Yum's revenue.
As competition increased from rivals like Taiwanese-owned Ting Hsin International Group's noodle dishes and Guangzhou Real Kungfu Catering Management Co.'s rice bowls, Yum struggled to find menus that catered to local tastes while keeping the signature products of its global brands.

Then, in July last year, Yum was hit by a food scandal after one of its local suppliers was accused of using outdated meat. That vendor, part of Aurora, Illinois-based OSI Group, also supplied McDonald's Corp., Burger King Worldwide Inc., and other fast-food chains. Yum terminated its relationship with OSI globally the same month and apologized to consumers.
It revamped menus to focus on breakfast and healthier foods at KFC to try to bring back consumers. In August, it named Micky Pant as chief executive officer of the China business as part of a management restructuring, replacing Sam Su who had run the unit since 2010.
Pant will lead the new separated China business, the company said Tuesday, adding it is committed to returning "substantial capital" to shareholders in connection with the split.
Meister said Tuesday that he's pleased Yum's board agreed with him that Yum is better off as two companies.
"The separation of these two businesses gives shareholders the choice to own a growing annuity-like franchise cash flow stream, as well as the leading restaurant concept in a country with the fastest-growing consumer class," Meister said in an e-mailed statement.
Falling Market Share
Yum's market share has been falling in the past three years, to 31.4 percent in 2014 from 39.9 percent in 2011, while third-place Ting Hsin rose to 8.5 percent from 6.2 percent, data from Euromonitor International showed. McDonald's, in second place, saw its share fall to 15.9 percent last year, from 16.5 percent in 2013, according to the researcher.
Yum reported earlier this month that same-store sales rose 2 percent in China in the third quarter, far below analysts' expectations of 9.6 percent, according to Consensus Metrix.
Separating the China business would allow Yum to be more focused on a country-specific strategy and give it more flexibility in terms of customizing products to the local market, said Jastrzab at Bloomberg Intelligence.
If Yum is successful in tailoring products more to local consumers, it could force competitors like McDonald's "to up their game and build a company-specific strategy," he said.
Before it's here, it's on the Bloomberg Terminal.
LEARN MORE