Yahoo's Mayer Still Chasing Growth in Fourth Year of Turnaround
by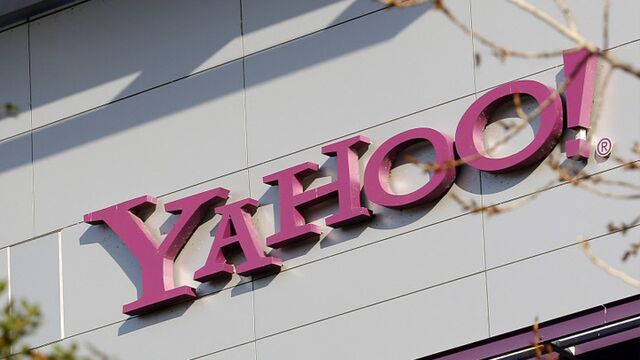 Yahoo! Inc. Chief Executive Officer Marissa Mayer, well into her fourth year at the helm, is still stumbling in her efforts to turn around the ailing Web portal.
The company on Tuesday reported its biggest quarterly sales drop since 2009 and gave a fourth-quarter revenue forecast that missed analysts' estimates. Yahoo also said the planned spinoff of its stake in Chinese e-commerce company Alibaba Group Holding Ltd. may not be completed until January, later than a prior target of year's end.
Mayer has been chasing sales growth by adding services for smartphones and tablets, new tools for advertisers and premium content to attract audiences and marketers. Yet Yahoo has failed to hold onto advertising market share in key areas such as mobile, where rivals such as Facebook Inc. and Google Inc. have gained ground. As investors await the spinoff of the Alibaba holdings -- valued at about $27 billion -- Yahoo said it will update shareholders with a new strategic plan for the company without the stake during its next earnings call.
"For investors looking for signs that Yahoo has turned the tide in driving revenue growth, this quarter's results are unlikely to be reassuring," Paul Sweeney, an analyst with Bloomberg Intelligence, said in an e-mail.
Google Agreement
In another effort to spur sales, Yahoo also said it reached an agreement with Google to gain search and advertising services from the search giant through the end of 2018. Google's offerings on desktops and smartphones will complement the search services provided by Microsoft Corp., which remains a strong partner, as well as Yahoo's own search technologies and ad products, the company said.
On Tuesday, Yahoo projected fourth-quarter sales, excluding revenue shared with partner websites, of $920 million to $960 million, short of analysts' average prediction of $1.08 billion. Third-quarter revenue attributed to Yahoo fell 8.3 percent to $1 billion, the company said in a statement, compared with analysts' estimates of $1.02 billion.
Shares of Yahoo fell as much 5.6 percent in extended trading. The stock declined 2 percent to $32.83 at the close Tuesday in New York, leaving it down 35 percent this year.
Alibaba Transaction
While Mayer tries to reverse the fortunes of the company she took over in July 2012, investors have been most interested in its roughly 15 percent stake in Alibaba. Yahoo's planned spinoff of those shares, which make up a majority of the Web portal's stock valuation, may take place in January after gaining approval from the boards of both companies and meeting regulatory requirements, Mayer said Tuesday on a conference call.
"Some of the things that may cause us to ultimately conclude in January, we are making great progress on getting these completed," Mayer said on the call. "We do feel really confident overall toward the transaction."
Last month, Yahoo said it was pushing ahead to complete the plan this year, though the U.S. Internal Revenue Service declined to grant an advance ruling blessing the deal. The transaction may save Yahoo about $9 billion in taxes. Yahoo has said the spinoff company, called Aabaco Holdings Inc., will be listed on the Nasdaq stock exchange under the ticker symbol AABA. The new company will include the small business unit of Yahoo.
Mayer also has lost several executives, including Jacqueline Reses, Yahoo's chief development officer, who had shifted her focus this year to the Alibaba share sale. Reses stepped away from the company to join Square, the payments-processing startup run by Twitter Inc. CEO Jack Dorsey.
Quarterly Profit
The Sunnyvale, California-based company posted third-quarter profit attributable to Yahoo of $76 million in the third quarter, compared with $6.8 billion a year earlier, when it benefited from a partial sale of its Alibaba stock. Profit, excluding some costs, was 15 cents a share, compared with the average analyst estimate of 16 cents.
Revenue from new advertising formats rose 43 percent to $422 million, the company said.
"As we look towards a post-spin 2016 we think there's a unique opportunity to reset and realign," Mayer said on the call. "This will require us to simplify our structure, improve expense discipline and prioritize our investments to improve growth and profitability."
Yahoo still is pursuing new options for users aimed at benefiting its traditional advertising business. On Sunday, the company will stream, for free, a National Football League game featuring the Jacksonville Jaguars and Buffalo Bills. The event highlights Yahoo's growing lineup of high-quality video content, including comedies and news programming.
Earlier this month, the company revamped its mobile e-mail application with a cleaner look. In addition, the Web portal is letting people turn off the requirement to enter a password, and instead giving them the option to verify their identity via the application. Still, some analysts doubt these initiatives will be enough to reverse the company's trajectory.
"She's focused on product, but nothing material has come of it," said Sameet Sinha, an analyst at B. Riley & Co. "I don't see anything out there that changes the game."
Before it's here, it's on the Bloomberg Terminal.
LEARN MORE