United Technologies Sees $16 Billion Buyback Trumping M&A
by
Hayes deploying cash from pending sale of helicopter business

`Really big' deals are on the back burner for now, CEO says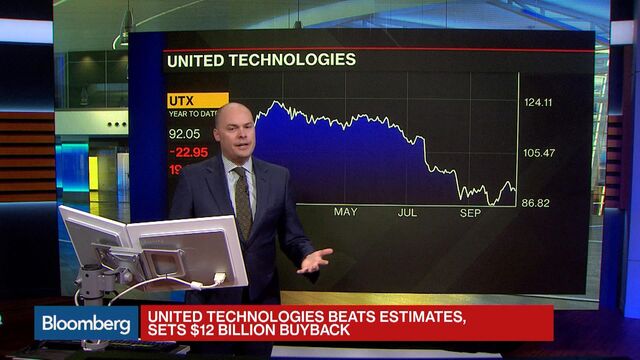 United Technologies Corp. is shelving plans to make large acquisitions as Chief Executive Officer Gregory Hayes directs cash toward $16 billion of stock buybacks through 2017.
Investors welcomed the approach Tuesday, sending United Technologies to the biggest rally in more than three years. The tilt away from deal-making was driven in part by a slumping share price that leaves takeovers less attractive, Hayes said after the company's third-quarter profit beat analysts' estimates.
"Really big M&A is on the back burner today," Hayes said in a telephone interview. "We'll probably do about $1 billion of M&A this year, so it's never off the table. But as long as we think that the UTC stock is trading at a big discount to intrinsic value, I'm not going to go out and do a big deal that would require me to use UTC stock as a currency."

Hayes's pivot toward buybacks marks a shift from December, a month after he was named CEO. He told analysts then that he would consider deals of more than $20 billion and repurchases of as much as $3 billion. He has been reshaping United Technologies around its building systems and aerospace businesses and agreed to sell Sikorsky to Lockheed Martin Corp. for $9 billion.
$22 Billion
By 2017, United Technologies will have returned $22 billion to shareholders, Hayes said. The breakdown: $4 billion of buybacks already completed this year, $6 billion of dividends and $12 billion of newly authorized repurchases. Hayes said the company probably will pursue smaller deals that complement its existing business lines, including the fire, security, elevator and aerospace markets.
United Technologies rose 3.9 percent, the most since June 2012, to $95.62 at the close in New York. That pared the 2015 loss to 17 percent, compared with a 1.4 percent drop in the Standard & Poor's 500 Index.
"The fundamentals aren't crystal clear by any means at this juncture, but we clearly know that this is the new safe-house stock for the rest of the year," said Nicholas Heymann, a William Blair & Co. analyst who rates the shares as market perform. "People are saying forget the fundamentals, this is where the money flow's going to be."
2015 View
Excluding Sikorsky, 2015 earnings will be $6.15 to $6.30 a share, United Technologies said, reaffirming an earlier forecast. Sales will be in a range of $57 billion to $58 billion.
For 2016, earnings will grow by less than 10 percent, Hayes said. The results will be driven primarily by gains in the climate division, restructuring and buybacks, while the Pratt, Otis and aerospace units probably will decline, he said.
"There are pretty big headwinds coming out of China," Hayes said.
Quarterly adjusted earnings were $1.61 a share, United Technologies said Tuesday, topping the $1.54 average of 16 analysts' estimates compiled by Bloomberg. Sales fell 5.6 percent to $13.8 billion, trailing the average projection of $14.6 billion.
Sales decreased for all four business lines, including declines of 9.3 percent for Pratt and 8.5 percent for Otis, which faces a slowdown in the Chinese construction market. The effects of foreign exchange reduced earnings by 5 cents a share, the company said.
'Good' Performance
"Considering the revenue headwinds that UTX faced in the quarter, we view this as a good operating performance," Robert Stallard, an RBC Capital Markets analyst, said Tuesday in a note. Orders from China -- a global focal point for high-rise construction -- and in the aerospace-parts business "were soft as expected, but not worse than expected. We would expect these to remain challenges heading into next year."
The per-share results included 6 cents of restructuring costs, United Technologies said. Net income fell 27 percent to $1.36 billion.
United Technologies agreed in July to shed Sikorsky, which the parent company said didn't fit with making aircraft components. The deal should close this quarter, the company said.
Before it's here, it's on the Bloomberg Terminal.
LEARN MORE