Tesla Loses Consumer Reports Recommendation Amid Rise in Sales
by and
Reversal sends automaker's shares down most since Aug. 6

Quality issue arises as Tesla adds new Model S features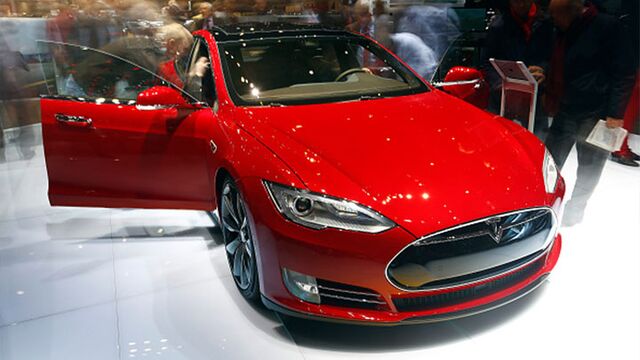 Tesla Motors Inc., the Silicon Valley carmaker whose market value is greater than those of large global players like Fiat Chrysler Automobiles NV and France's Peugeot SA, is starting to experience the growing pains that come from producing more cars.
The company's flagship Model S electric car lost its recommendation from Consumer Reports after owners complained about quality issues as mundane as a squeaky sunroof to major issues like the electric motor needing to be replaced, the publication said in its forthcoming December issue. The news sent shares tumbling 6.6 percent to $213.03, its biggest drop since Aug. 6.
The concern is that, as Tesla boosts production of the Model S while also bringing out its Model X sport utility vehicle, quality could become tougher to monitor. Tesla has already built more of the Model S this year than ever before and the Model X just went on sale, which puts pressure on its factory and engineers to make sure everything is right.
"As they have increased volume and the complexity of their cars and added features, they are struggling," Jake Fisher, director of automotive testing for Consumer Reports, said Tuesday. "As they add the Model X, the question is whether they will be able to get the quality back."
Tesla delivered 31,655 Model S sedans in 2014 and has already surpassed that this year. The company is targeting deliveries of as many as 55,000 Model S and Model X vehicles this year. When car companies add all-new models and boost production, problems often arise and it can take time to get things fixed at the factory, Fisher said.
Consumer Reports recommended the car last year because its quality was strong enough to merit a "reliable" rating. If a vehicle falls below that rating, the publication won't recommend it.
'Complicated Maladies'
Owners of the Model S sedan, introduced in June 2012, reported "an array of detailed and complicated maladies," Consumer Reports said in its forthcoming December issue. Adding features like a sun roof led to reliability issues, and owners also complained about having issues with the car's electric charger, Fisher said.
"This year, with a below-average rating, we are no longer recommending the Model S," Fisher said. "In terms of owner satisfaction, customers would buy it again -- they love it."
Tesla is also attracting more consumers. The first buyers of a new model are often hard-core enthusiasts and may have been less critical of any flaws, said Sandy Munro, owner of engineering consulting firm Munro & Associates in Auburn Hills, Michigan. More recent buyers may look more critically, he said.
"This sounds like growing pains," Munro said in a phone interview.
Consumer Reports in August lauded the car's combination of performance, luxury and efficiency when its tests resulted in a score of 103 on the publication's 100-point scale.
The publication didn't rank Tesla among 28 other brands because that required enough responses for at least two models. The Palo Alto, California-based company's start of deliveries of the Model X was too late for the April survey. Consumer Reports said it received about 1,400 survey responses from Model S owners.
Satisfied Owners
Consumer Reports said that even with the concerns, Tesla owner satisfaction remains very high, with 97 percent of owners saying they would definitely buy their car again.
"Consumer Reports also found that customers rate Tesla service and loyalty as the best in the world," the automaker said in an e-mailed statement Tuesday. "Close communication with our customers enables Tesla to receive input, proactively address issues and quickly fix problems. Over-the-air software updates allow Tesla to diagnose and fix most bugs without the need to come in for service. In instances when hardware needs to be fixed, we strive to make it painless."

Bearish sentiment has been growing since Tesla delivered the first six Model Xs at a Sept. 29 event in Fremont, California. Brian Johnson, an analyst with Barclays, recently trimmed his 12-month target price for Tesla to $180 from $190 and rated the shares underweight, noting that the SUV's introduction "failed to boost the shares." Barclays has also predicted that Tesla will miss its 2015 target for at least 50,000 deliveries, and the prospect of a slow increase in production of the Model X raises questions about whether the more affordable Model 3, due in late 2017, might be delayed.
James Albertine, a Stifel Research analyst, said in a note Tuesday that many of the concerns cited by Consumer Reports have been previously "discovered, discussed and remedied" by Tesla in the past two to three years.
"We will endeavor to learn more about this lower Consumer Reports rating, but considering the gravity (and duration) of the findings we find it interesting there have not been more used Model S sedans available for sale," Albertine wrote.
Tesla's share decline contributed to a drop of $562 million, or 5 percent, in Chief Executive Officer Elon Musk's net worth on Tuesday, according to the Bloomberg Billionaires Index. Musk, Tesla's largest shareholder, has an $11.2 billion fortune.
Before it's here, it's on the Bloomberg Terminal.
LEARN MORE