Swiss Watch Quarterly Exports Decline the Most Since 2009
by
Drop in Chinese consumption spreads across Asian markets

Data casts `something of a shadow over prospects' for 2015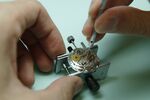 Swiss watch exports had their biggest quarterly decline since 2009 as the industry struggles with the strong franc and as a slump in demand in China and Hong Kong began to spread across Asia.
The value of shipments fell 7.2 percent in the third quarter, adjusted for working days, the Swiss customs office said Tuesday in a statement. Exports dropped 2 percent in the first nine months of the year to 15.8 billion francs ($16.5 billion), according to the Federation of the Swiss Watch Industry.

The data "casts something of a shadow over prospects for the year," the trade group said.
Waning demand in Hong Kong and China has spread to other Asian markets such as Singapore, South Korea and Taiwan, weighing down an industry that accounts for a 10th of Switzerland's exports. The nation's watch executives are the most pessimistic in four years as an increasing minority sees a threat from smartwatches, a Deloitte LLP report showed last month.
Hong Kong and China last year accounted for a quarter of Swiss watch exports. Exports to the U.S., the second largest market, fell 18 percent in September, their steepest monthly drop in five years. 
Swatch Group AG, the maker of Omega and Tissot timepieces, declined 2.1 percent to 367.40 francs as of 9:21 a.m. in Zurich. Cie. Financiere Richemont SA, the owner of the Cartier brand, fell 1.6 percent to 79.60 francs.
"The main reason for the drop are the Chinese, whose demand has declined locally with Hong Kong and mainland China, and now obviously also on a global level as they don't buy as many watches while traveling anymore," said Patrik Schwendimann, an analyst at Zuercher Kantonalbank in Zurich. "My biggest worry is how it's going to be going forward: is it just temporary, or could it worsen?"
Before it's here, it's on the Bloomberg Terminal.
LEARN MORE