Quiet Irishman to Take Central Bank Reins From Hero Honohan
by and
Economics professor Lane appointed to lead Irish central bank

Lane tipped as potential future ECB president by colleagues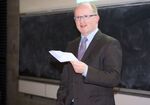 Two weeks ago, Philip Lane attended a performance of Bailed-Out, a dramatized account of Ireland's financial crisis that saw the nation's central bank governor became a hero by telling the truth while the government dissembled.
The drama drew on Governor Patrick Honohan's 2010 call to a morning news-radio show to reveal that Ireland was deep in talks for an international rescue even as the government distanced itself from the negotiations. At a stroke, Honohan had restored the credibility of the central bank, damaged almost beyond repair by its failure to stop the housing bubble that devastated the economy.
Before Honohan was plucked from academia in 2009, the government had tended to choose central bank governors from inside the civil service. By choosing Trinity College Dublin economics professor Lane, 46, on Tuesday to succeed Honohan in Dublin, Finance Minister Michael Noonan has opted to safeguard the bank's newly restored reputation for independence.
Own Man
"He will be his own man, and will not be amenable to political pressure," said John O'Hagan, economics professor at Trinity, who has known Lane since the governor-designate was a second-year undergraduate student at the university. "We are talking about a potential future ECB president. He's an outstanding academic, and a man of few words. That always helps for an ECB president."
Lane's last rival for the job was Robert Watt, head official at the Irish public expenditure and reform ministry, people with knowledge the matter said Oct. 15. Watt's ministerial boss, Brendan Howlin, raised concerns about selecting an academic during a cabinet discussion on the appointment Tuesday, arguing the role needed someone with strong managerial experience, the Irish Independent reported Wednesday.
Harvard, Columbia
Schooled at Blackrock College on Dublin's affluent south side, Lane went on to receive a PhD in economics from Harvard University in 1995 and was assistant professor of economics and international affairs at Columbia University from 1995 to 1997 before returning to the Irish capital. Lane is chairman of the European Systemic Risk Board's advisory scientific committee.
"His management style wouldn't be warm and cuddly," said Constantin Gurdgiev, adjunct professor of finance at Trinity. "His intellectual capability is beyond any comparison in Ireland."
Diabolic Loop
In 2012, Lane wrote that the "diabolic loop" between national banking systems and sovereigns was central to the crisis enveloping the region, and said the implosion of the euro area was "no longer unthinkable."
During his appearance at the country's inquiry into the banking collapse, in January, he said the ECB had delayed too long in coming up with an Outright Monetary Transactions-type program. OMT was a targeted bond-buying plan aimed at calming investor fears that the euro area would splinter.
Earlier this year, Lane was part of a group that called for a one-off coordinated debt reduction should countries commit to reduce their borrowing. The group also looked for the creation of a euro bond "which could facilitate unconventional monetary policies by the ECB."
"A review of his published works suggests a pro-growth mindset, though with appropriate controls and safeguards in the form of local macro-prudential regulations," said John Cronin, an analyst with Investec Plc in Dublin. Lane has said that home loans restrictions brought in by Honohan in February to prevent another property bubble could have been brought in during the mid-2000s as mortgage lending soared.
Captain Sensible
"His work would have been much read by policy makers in the last few years," said O'Hagan at Trinity. "One of the reasons he may have been picked is his influence at the ECB. I wouldn't say he's an ideologue, he's not a populist, he's just sensible."
While Lane, who is married and has two sons, isn't as gregarious as Honohan, colleagues say he can be just as effective.
"There may be a perception that he's a poor communicator, but he's very good one-to-one, and he is excellent working behind the scenes," said Paul Walsh, professor of International Development Studies at University College Dublin, who worked with Lane for 10 years in TCD. "He's a fantastic networker. He's well liked in his own circles and those circles include the ECB and those in regulation."
Before it's here, it's on the Bloomberg Terminal.
LEARN MORE