Puerto Rico Said Struggling to Reach Deal With Hedge Funds
By
Development bank and creditor group said to be deadlocked

Confidential talk details said possibly for release Wednesday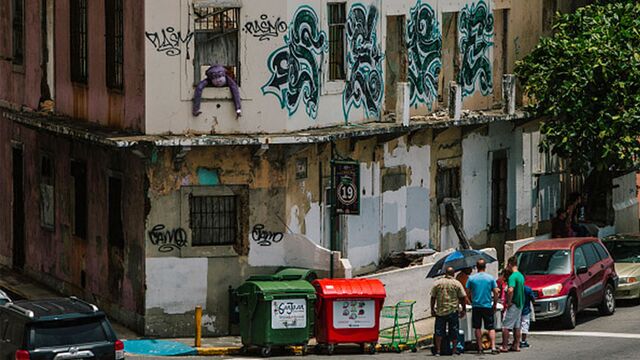 Puerto Rico officials and a group of hedge funds are deadlocked on an agreement to restructure the island's debt and inject new capital into its development bank, hours before a confidentiality pact expires, according to two people with knowledge of the matter.
After the non-disclosure agreement ends Wednesday morning, the two sides would exit talks, said the people, who asked not to be named because the information isn't public.
The conversations are the first Puerto Rico officials have held with holders of the government's debt since the territory's leadership released a restructuring and economic plan that would seek to cut government services and force losses on most creditors. The hedge funds, which own debt issued by the Puerto Rico Government Development Bank, entered negotiations three weeks ago to arrange an exchange of some of the agency's roughly $5.1 billion of debt, people with knowledge of the matter said last month.
The development bank is closely tied to other government borrowers because it acts as a lender to the commonwealth and its localities. The GDB has been working with Citigroup Inc. to help oversee its financial restructuring.
Releasing Details
"In order to maintain the integrity of this process, we have no plans to publicize the nature of any of our conversations with our creditors," said Barbara Morgan, a spokeswoman for the GDB at SKDKnickerbocker in New York. Scott Helfman, a spokesman for New York-based Citigroup, declined to comment.
The group is advised by law firm Davis Polk & Wardwell LLP and financial advisory firm Ducera Partners, people with knowledge of the matter said in July. Adam Verost, a representative for Ducera, and Susan Peters, a spokeswoman for Davis Polk, didn't immediately respond to telephone and e-mail messages seeking comment.
Puerto Rico could release some of the confidential deal terms that were under discussion as soon as Wednesday, the people said. The two sides are still determining what would need to be released publicly once the non-disclosure pact expires, they said.
Agreements governing confidential negotiations between borrowers and their creditors typically have provisions stipulating how and when private information will be disclosed. Investment firms usually are barred from trading related securities while they are in a position to receive material, non-public information.
The most actively traded GDB security, the 4.375 percent notes maturing February 2019, sunk nearly 3.3 cents when they were last traded Oct. 15 to an average of about 36.8 cents on the dollar, according to data compiled by Bloomberg. That's the lowest average in more than five weeks, the data show.