PBOC's London Bill Sale Said to Be Marketed at About 3.3% Yield
Bloomberg News
City's yuan status enhanced by PBOC sale as Xi visits

China also plans to sell sovereign yuan bonds in U.K.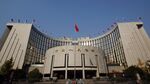 The People's Bank of China is helping cement London's dominance as a yuan trading hub in Europe by conducting its first ever overseas debt sale in the city, a move timed to coincide with a state visit by President Xi Jinping.
Investors from Europe and the U.S. bought almost half of the 5 billion yuan ($788 million) of one-year bills offered by the PBOC on Tuesday after bids amounting to more than 30 billion yuan were tendered for the debt. The sale is a precursor to China's debut issuance of yuan-denominated sovereign bonds outside of the domestic market and Hong Kong, also planned to take place in the U.K. capital.
"This is another important step in yuan internationalization, which could help increase chances to win reserve status," said Tommy Xie, a Singapore-based economist at Oversea-Chinese Banking Corp. "For London, by playing an essential role in the process, the city enhances its role as the world's currency trading center."
London is extending its lead over Paris and Frankfurt in the race to be Europe's yuan hub as Xi visits Britain this week to agree on investments that Prime Minister David Cameron said will amount to more than 30 billion pounds ($46 billion). Chinese leaders are seeking to boost global usage of their currency as they push for it to gain official reserve status at the International Monetary Fund in a review next month.
Investor Interest
The securities were sold on Tuesday to yield 3.1 percent, according to a person familiar with the deal who is not authorized to speak publicly and asked not to be identified. One-year sovereign notes in Shanghai yield 2.43 percent, less than the 3.27 percent for November 2017 notes in Hong Kong's Dim Sum bond market. The PBOC last sold similar-maturity bills onshore in December 2011.
Data after the sale today showed Asian investors subscribed for 51 percent of the bills, while Americans bought 25 percent and Europe-based investors 24 percent. Banks were the biggest participants at 47 percent, followed by central banks and public sector entities at 38 percent, money managers at 14 percent and private banks at 1 percent, according to a person familiar with the transaction.
More Sales
"We should expect much, much more issuance of Chinese bonds in renminbi abroad," Jan Dehn, the London-based head of research at Ashmore Group Plc, which manages $51 billion in emerging-market assets, said by phone. "This is an important additional step which clearly points to China's unwavering commitment to become a global reserve currency."
Industrial & Commercial Bank of China Ltd. and HSBC Holdings Plc are joint global coordinators for the offering.
As China seeks to promote the global use of the yuan, the PBOC has opened up its interbank bond market to sovereign wealth funds, central banks and supranational organizations. It also plans to give greater access to the onshore currency and double the yuan's trading hours in China, a move that will provide a more reliable guide to the exchange rate through most of Europe's working day.
The U.K. accounted for the largest portion of the world's $5.3 trillion-a-day of currency trading in 2013 with a 41 percent market share, according to a report by the Bank for International Settlements. For yuan transactions, only Hong Kong and Singapore are bigger clearing centers than the U.K. outside of China, according to the Society for Worldwide Interbank Financial Telecommunications.
London Hub
The PBOC's bill sale in London is aimed at boosting the supply of high-quality notes available to holders of yuan in the offshore market, as well as providing a benchmark interest rate, according to a preliminary offering circular.
During bilateral discussions last month in Beijing, British and Chinese officials said they would study the feasibility of a London-Shanghai stock trading link and the expansion of a bilateral currency swap between the PBOC and the Bank of England. The U.K. last year also become the first European nation to sign an accord with China to allow the direct exchange of the yuan for British pounds.
Bank of China on Tuesday set up its trading center in London and a renminbi bond trading index.
— With assistance by Lyubov Pronina, and Helen Sun
Before it's here, it's on the Bloomberg Terminal.
LEARN MORE