Photographer: Tomohiro Ohsumi/Bloomberg
Noble Bets on LNG With Egypt Supplies Amid Commodity Slump
by
Trader to deliver 1 million tons of LNG within first year

Egypt has potential to become among top five LNG importers
Liquefied natural gas is booming for Noble Group Ltd., the Singapore-listed trader that's been fending off attacks on its accounting practices amid a commodity price rout.
Noble will "shortly" deliver its first million metric tons of LNG within the first year of operations in the segment, the company said Tuesday in a statement. That's about how much Portugal buys annually, according to the International Group of Liquefied Natural Gas Importers. The trader won a "significant number of slots" for medium-term delivery in the latest tender to supply Egypt, the fastest-growing market for the fuel, Noble said, without providing the exact number of cargoes.
"The new slots in Egypt are the latest addition to Noble's fast-growing global LNG business, which also includes cargo deliveries to customers in the Pacific and the Atlantic Basins," the company said. "Noble has been regularly chartering LNG vessels on the spot market this year as its deliveries continue to grow."
Noble bolstered its LNG business by last year hiring traders from Bank of America Corp. The company's shares slumped to the lowest close since 2008 this month amid criticism from a group calling itself Iceberg Research and investor concern that slumping commodity prices may hurt its business. Chief Executive Officer Yusuf Alireza has been fighting back, boosting transparency and vowing in August to increase the focus on businesses that can deliver results immediately.
Noble shares rose as much as 5 percent to 0.530 Singapore dollars ($0.38) before closing at 0.515 dollars. The stock slumped to 38 cents on Oct. 6, the lowest level at close since 2008.
Three Terminals
Egypt became an importer of LNG this year in April, receiving four to five cargoes a month through the Hoegh Gallant floating storage and regasification unit. The African nation has supply accords with Noble, Vitol Group, Gazprom Marketing & Trading, Trafigura Beheer BV, Sonatrach and BP Plc. Its second terminal, from BW Group Ltd., is due to start next month, Noble said in the statement. Egypt plans to lease its third FSRU in 2016, Khaled Abdel Badie, chairman of Egyptian Natural Gas Holding, said Sept. 2.
"Plans for a third import facility could see it become one of the five largest importers," Noble said.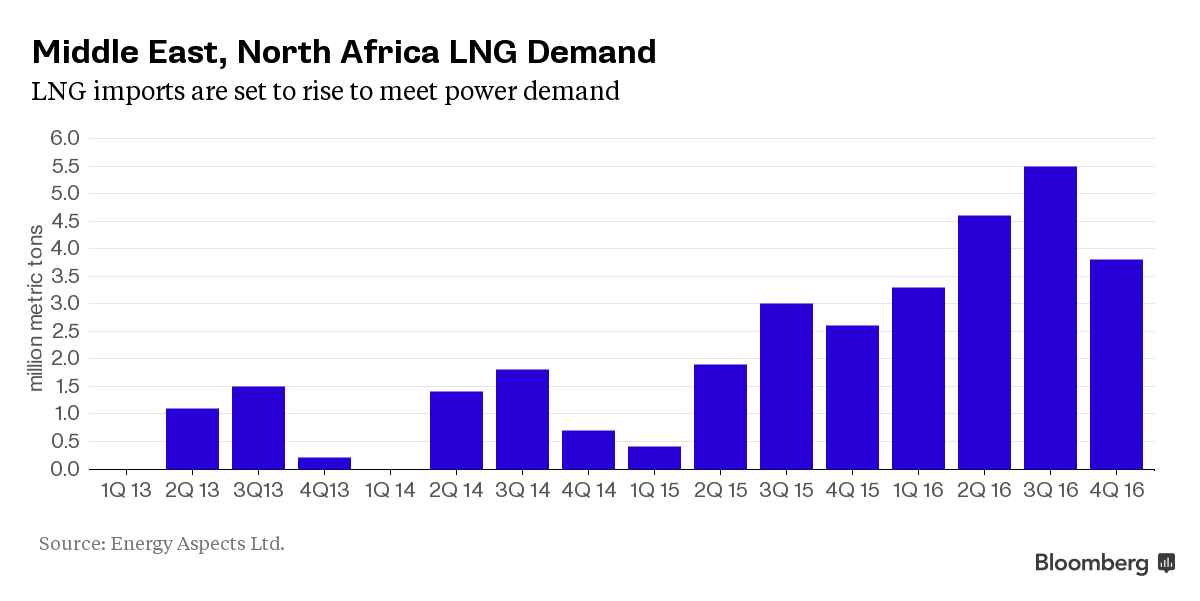 Noble's LNG unit has purchase and supply agreements running until the end of this decade, with customers in the Middle East, Europe and Asia, including Japan, the company said. Expanding in Egypt gives Noble opportunity to supply a country with surging demand to feed power plants.
Noble commissioned the country's first terminal at the port of Ain Sokhna and delivered the first two LNG cargoes ever imported into Egypt. The trading house has a deal to supply seven cargoes for two years starting from April this year. Further deliveries under this first import contract are scheduled in 2015 and 2016, according to Noble.
Noble hired Gabriel Gonzalez Laguna and Alejandro Sanchez Gestido last year to restart LNG trading from London and to focus on both short-term and long-term deals, Gareth Griffiths, global head of power, gas and carbon trading at Noble, said in an interview in May 2014. Griffiths at the time said LNG is "a natural and very important part" of the company's strategy.
Egypt chose seven companies last week to provide a further 55 LNG cargoes from November this year through December 2016, the Oil Ministry said in an e-mailed statement, without identifying the winners. Hamdy Abdel Aziz, a spokesman for the Oil Ministry, didn't answer a phone call Tuesday.
Before it's here, it's on the Bloomberg Terminal.
LEARN MORE