Minecraft for Energy Wonks: This Game Puts You in Control of America's Climate Headaches
Think you've got a solid climate fix? Think again.
By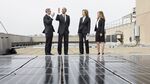 When it comes to energy problems, everyone has messianic aspirations for the solution they prefer. If you believe in solar, you probably think panels alone will save the world. Work for a coal company? You are certain that generators can keep America's lights on. There are carbon-tax diehards. And somebody, somewhere, probably thinks elevator lighting standards for commercial buildings can save the planet.