After Activist Pressure, Macy's Vows to Ensure Furniture Is Free of Toxic Flame Retardants
By and
Health and environmental activists had pressured the retailer

Department-store chain says most vendors already are complying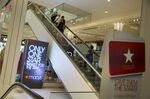 Macy's Inc., responding to a campaign from health and environmental activists, will check with its furniture suppliers to ensure that they aren't using toxic flame retardants in their products.
While Macy's expects that few manufacturers are still using the substances at issue, the retailer will explicitly instruct suppliers to stop using certain chemicals, Jim Sluzewski, a spokesman, said in an e-mailed statement Tuesday.
"We at Macy's are firmly committed to protecting the health and safety of our customers, as well as to complying with all laws, including those that pertain to protecting safety," Sluzewski said. "Macy's has been an industry leader in environmental sustainability, and we are proud of our track record in that regard."
Safer Chemicals, Healthy families -- a health and environmental advocacy group -- had been calling on Cincinnati-based Macy's to commit to eliminating the flame retardants since August, sending the company letters, starting online petitions and organizing e-mail campaigns among supporters. The campaign was spurred by a change in California's safety standard that took effect on Jan. 1, eliminating a requirement that furniture was made with certain chemicals to prevent fires.
"We thank and congratulate Macy's for taking this big step to make all sofas safe," said Mike Schade, Mind the Store campaign director of Safer Chemicals, Healthy Families. He said Macy's should also announce a time frame for phasing out the chemicals.
Safety Concerns
Flame retardants can harm human health and have been linked to cancer, brain damage and developmental disabilities in children, according to Safer Chemicals, Healthy Families. New flammability standards provide better fire safety without the use of these chemicals in upholstered furniture, the group said.
Macy's decision comes after competitors such as Ikea Group, Wal-Mart Stores Inc. and Ashley Furniture Industries Inc. have pledged to phase out the flame retardants, the group said.
"Customers want products that are safe, not some that may contain pounds of carcinogens," Schade said in an interview.
Toxic chemicals in customers' homes have taken center stage in the past year. Earlier this year, Home Depot Inc. and Lowe's Cos. both announced they would phase out vinyl flooring with potentially toxic phthalates. Lumber Liquidators Holdings Inc., which also sold flooring containing phthalates, has been working since last year to reduce the levels of the chemical in its flooring. The chain has also come under scrutiny for selling Chinese-made laminate flooring with excessive levels of formaldehyde. The company suspended sales of those products in May, two months after concerns were first raised.