Israel's Illusive Networks Lays False Clues to Trap Hackers
By
Startup gets $22 million in second funding round this year

Country accounts for almost 20% of global cyberinvestment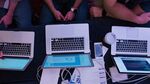 A Tel Aviv startup is banking on hackers' greed and carelessness in its effort to defend computer networks.
Illusive Networks Ltd. plants false data in vulnerable parts of a company's network. Once the hacker reaches for the fake information, he triggers an alarm that allows security officers to quarantine that section, identify the hacker's profile and allow the rest of the business to operate without interference.
"We catch them with their pants down," said Chief Executive Officer Shlomo Touboul. The tactic reduces to almost nil a cyberthief's chance of extracting information, he said.
Following high-profile hacks of Sony Pictures, Anthem and, most recently, Dow Jones, the global market for cyberprotection is expected to rise to $8.7 billion in 2020 from $3.9 billion this year, according to research firm MarketsandMarkets. Illusive competes with more established companies such as FireEye Inc. and Trend Micro Inc. Juniper Networks Inc. in 2012 purchased Mykonos Software Inc., which uses deceptive techniques to protect websites.
Illusive, which was founded in June and said it has a few dozen global customers in Asia, Europe and America, on Tuesday announced the closing of a $22 million funding round led by New Enterprise Associates. The funding includes investments by Bessemer Venture Partners, Marker LLC , Citi Ventures and Innovation Endeavors, which is led by Eric Schmidt, the chairman of Google parent Alphabet Inc. Team8, a cybersecurity incubator based in Israel, invested $5 million in June.
Military Intelligence
Illusive's innovative approach is hard to gauge because cybersecurity requires that its underlying technology can't be duplicated -- otherwise thieves would be able to exploit it, said Elik Ber, the CEO of Tel Aviv-based market-research company Meidata. He said the investment by Team8 -- which is led by Nadav Zafrir, a former head of an Israeli elite military-intelligence unit -- lends credibility.
"This person knows what he is talking about," Ber said.
Touboul, who founded Finjan Software in 1996, said that because Illusive's service doesn't require software installation on servers or workstations, it is inexpensive to deploy and particularly difficult for hackers to detect. It also produces few false positives, saving network operators from sifting through hundreds of alerts a day, he said.
Israeli cybersecurity companies have raised about $250 million this year, almost 20 percent of global investment, according to the country's National Cyber Bureau. Fourteen Israeli companies were acquired in the first half for a total $1.3 billion, according to the bureau.
It is difficult to "put a finger on what is a good company and what isn't," Ber said. "A good place to look for cyberinvestment is with people with the best operational experience in the field, and Israel is steeped in cyber."