FIFA to Release Names of Officials Under Investigation Wednesday
by
The gag rule on world soccer's ethics committee will lift

Reformers propose to limit FIFA President to 12-year term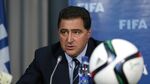 FIFA's ethics committee will reveal the names of soccer officials under internal investigation, starting Wednesday. The newfound openness is a radical change for the governing body and may finger some of FIFA's top officials, including some of those responsible for awarding Russia and Qatar the next two World Cups.
Until FIFA's executive committee voted Tuesday to change the rules, the ethics committee wasn't allowed to identify the targets or the nature of its inquiries. The panel will delay identifying any officials by a day to allow them to be notified that their names are going to be made public.
Going forward, "it will be possible to confirm the opening of proceedings against leading representatives of world football on request," the ethics panel said in an e-mailed statement.
The organization's reforms committee, a group convened after corruption allegations led to the biggest crisis FIFA's 111-year history, also recommended that the group's president be limited to 12 years, with an age limit of 74. The proposal, which will be voted on at the Feb. 26 meeting, is a referendum on now-suspended president Joseph "Sepp" Blatter, who is 79 and has been in charge for nearly two decades.
The announcement came after an emergency meeting of FIFA's 25-member executive committee to address the organization's current troubles. Blatter and European soccer head Michel Platini were suspended earlier this month after Swiss prosecutors accused Blatter of making a 2 million Swiss franc ($2.1 million) payment to the former French soccer star.
Platini, who submitted his papers to run in the election, will be barred from standing unless he wins his appeal to lift his current, 90-day ban. Domenico Scala, the official overseeing FIFA's electoral process, said he won't let any candidates under investigation take part in the Feb. 26 vote.
"The Ad-hoc Electoral Committee would decide, depending on the respective exact point in time, on how to proceed with the candidacy concerned" should a candidate's ban be lifted before the election, FIFA said in a statement after the meeting.
Asian soccer head Sheikh Salman Bin Ebrahim Al Khalifa said he'd been asked to run "by a growing number of senior football administrators, FIFA members and personalities of public life." Salman, who had backed Platini before the allegations against the UEFA head, says he's yet to make a decision.
Tuesday's meeting was the first to be overseen by Blatter's temporary replacement, African soccer head Issa Hayatou. Hayatou has led his confederation since 1988. The reforms didn't suggest term limits for members of the top board.
Blatter and his inner circle have never revealed their salaries. In the future, senior officials including the president, board members and other senior officials will have their incomes disclosed on annual basis.
The reform group will meet again next month before submitting final proposals to FIFA's board in December. A final decision will be taken at February's congress by FIFA's 209 members.
Before it's here, it's on the Bloomberg Terminal.
LEARN MORE