Ex-Riksbanker Ekholm Says Monetary Policy on the Right Path
by
Sees no hindrance to adding unemployment mandate for bank

Says lowering inflation target would add to policy risks
Ex-Riksbank Deputy Governor Karolina Ekholm, now a top official at the Swedish Finance Ministry, said the unprecedented monetary stimulus by her former colleagues is starting to bear fruit in their fight to revive inflation.
"It looks like the strategy so far has, if not succeeded, is going in the right direction," said Ekholm, who left the bank last year after a time on the board when she consistently argued for lower rates than the majority, in an interview Monday.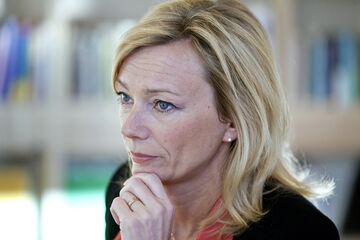 Her former colleagues are in the midst of a record stimulus campaign, having lowered their benchmark rate to a minus 0.35 percent and enacted a program to buy about 135 billion kronor ($16 billion) in government debt to drive down long-term interest rates. They are betting the easing will propel inflation back toward their 2 percent target. The annual underlying inflation rate is at 1 percent and hasn't hit the target since 2010.
Policy makers say they are prepared to do more even as their main scenario is that they will succeed achieving 2 percent inflation by 2016. The record easing is feeding through to the housing market, triggering concerns there's a bubble forming. Home prices are surging at annual rate of more than 10 percent.
The krona gained less than 0.1 percent to 9.241 per euro as of 3:15 p.m. in Stockholm.
Now as one of the top deputies to Finance Minister Magdalena Andersson, Ekholm said that policy makers will also need to consider risks in the housing market.
"You need to weigh measures that raise inflation properly and lower unemployment, against increased risks for instability in financial markets, perhaps especially elevated housing prices," she said.
The failure to reach the inflation target has sparked debate on all sides, including arguments for both lowering and raising the inflation target and for the bank to take unemployment more into consideration.
Ekholm said that that tinkering with the bank's mandate to include the labor market wouldn't mean a big shift in policy since her "experience is that the Riksbank board members take the labor market into account."
"But of course there's nothing hindering that being formalized," she said.
As for changing the inflation target, Ekholm said it's currently "well balanced" while lowering it would be the worst of outcomes.
"It would be quite risky to lower the target, as then you'd more often end up in a situation where monetary policy couldn't be used to support the economy," she said. A higher target might better "in terms of decreasing the risk for reaching a lower limit for the repo rate," she said.
She also backs the bank's foray into negative rates. 
"It's natural, considering the Riksbank's mandate," she said. "And so far it seems like it's had some effects on the real economy."
Before it's here, it's on the Bloomberg Terminal.
LEARN MORE