Chipotle Slips as Profit Miss Raises Concerns About Growth
by
Mexican chain's finance chief warns of `choppy' October sales

Company says it's spending more money on labor and marketing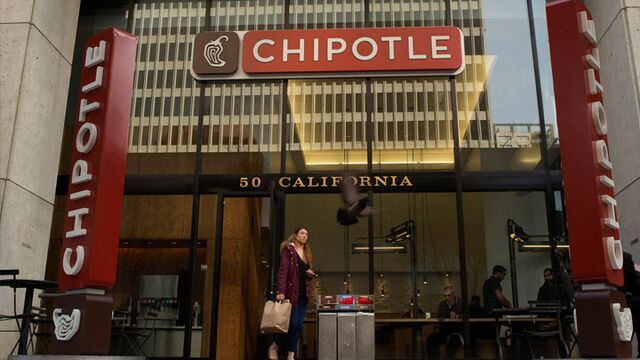 Chipotle Mexican Grill Inc. shares fell the most in six months after third-quarter profit missed estimates, renewing concerns about escalating costs and slowing growth.
Earnings amounted to $4.59 a share in the period, the Denver-based company said in a statement Tuesday. Analysts had estimated $4.62 on average, according to data compiled by Bloomberg. Sales rose 12 percent to $1.22 billion, in line with projections.
Higher labor costs and marketing expenses squeezed profit at the Mexican-food chain last quarter. Restaurant operating margins shrank about 50 basis points to 28.3 percent, even as the company benefited from improving avocado and dairy prices, as well as a menu price increase.
"They're getting some relief on the supply costs, so there are going to be some questions about the labor line," said Simon Erickson, an analyst at the Motley Fool.
The shares fell 5.7 percent to close at $665.67, the biggest one-day drop since April 22. With the slide Wednesday, Chipotle is now down 2.8 percent this year.
'Choppy' October
Chief Financial Officer Jack Hartung said that sales have been "very, very choppy" in October. The company expects sales for the fourth quarter to come in at about the level of the previous three months, he said. Chipotle also reaffirmed its annual forecast, saying sales would end the year with a low- to mid-single-digit percentage increase. That follows a 17 percent gain in 2014. The company is projecting a low-single-digit rise in 2016.
Chipotle stepped up its marketing push earlier this year when it debuted a campaign touting its simple, unprocessed ingredients. Chipotle said in April that it had pulled genetically modified organisms from its tortillas and cooking oil -- the final two items on its menu that contained GMOs -- giving it an edge over rivals.
Sales growth has ebbed from last year, though the latest increase was still ahead of estimates. Same-store sales -- the industry's key measure -- rose 2.6 percent in the third quarter. Analysts had projected 2.5 percent. Net income climbed 11 percent to $144.9 million.
Chipotle also is recovering from a pork shortage that forced it to pull carnitas from the menu at many locations. The company expects to get a sales boost from the return of that item at its more than 1,900 restaurants across the U.S. Chipotle recently said pork was already back at 90 percent of its restaurants, with plans to be fully stocked by the end of November.
Pork Suppliers
The pork shortage flared up in January, when Chipotle suspended a supplier after discovering violations of its pig-housing policies. In July, the company added a British pork supplier, Karo Foods, to help cover the shortfall. The company said Tuesday it had brought in another pork supplier in addition to Karo, without naming it.
Chipotle expects to open as many as 225 restaurants this year, up from a previous forecast of up to 205. Next year, it's planning to add 220 to 235 new locations.
Even after years of rapid growth, Chipotle is still educating much of America about the chain, Hartung said.
"Our challenge is to get more people to understand and come to Chipotle more often," he said.
Before it's here, it's on the Bloomberg Terminal.
LEARN MORE