China's Xi Says U.K. Financial Ties Make Nations Interdependent
by and
Cites yuan trading hub, AIIB in speech to British parliament

China's goal is to ensure all equal before the law: Xi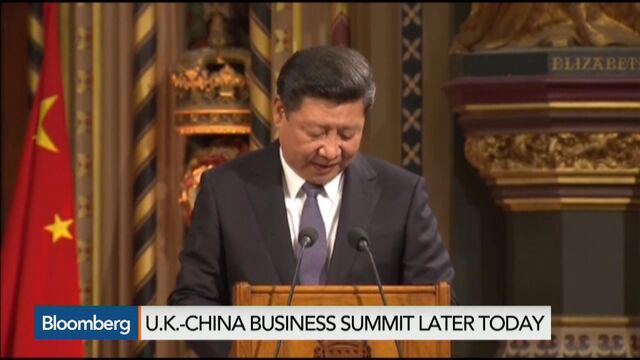 President Xi Jinping cited China's ties with the U.K. financial-services sector as he told lawmakers in London that the two countries are becoming "increasingly interdependent."
In a speech to both houses of Parliament on Tuesday, Xi singled out the U.K.'s place as the leading offshore yuan trading center outside Hong Kong and its pioneering issuance of yuan-denominated sovereign bonds, while noting that Britain was the first major western country to apply for membership of the Asian Infrastructure Investment Bank. Addressing an audience including Prime Minister David Cameron, Xi said that his four-day visit provides an opportunity to lift bilateral ties to a "new height."
"It's fair to say China and the U.K. are increasingly interdependent and becoming a community of shared interests," Xi told lawmakers gathered in the Royal Gallery behind the upper House of Lords. "I'm confident that the people of China and the U.K., who are creative and eager to embrace change, can surely make more opportunities and take our relationship to a new level."
Cheaper Imports
Xi's visit comes at a time when British steel plants are being closed and more than 5,000 workers face losing their jobs in the face of cheaper imports from China. Shortly before Xi's address, business secretary Sajid Javid told the lower House of Commons that Cameron will raise "unfair trade" in his talks with the Chinese president.
Xi also addressed the rule of law in his speech amid concerns that British companies do not face a level playing field in China. Chinese regulators denied claims that investigators have unfairly targeted foreign businesses after GlaxoSmithKline Plc was fined a record sum for bribery last year.
"Our goal is to ensure all are equal before the law, to accelerate the development of a system of socialist law-based governance with distinct Chinese features and steadily promote the making of sound laws, strict law enforcement, judicial justice and the building of a law-abiding nation," Xi said, according to a translation of his remarks. "He who abides by the law will make a country strong, while he who fails to do so will make a country weak."
'Golden Era'
Xi's visit is the latest sign that the Cameron government's more accommodative stance toward China has ended a near two-year diplomatic freeze caused by the prime minister's 2012 meeting with the Dalai Lama. The U.K. is striving to be China's "best partner in the West" and usher in a "golden era" between the countries, Chancellor of the Exchequer George Osborne said during a visit to China in September.
"China is an extremely important player in the global economy and their influence is only going to grow," Michael Metcalfe, global head of macro strategy at State Street Global Markets said in an interview on Bloomberg Television. "The U.K. is a small, open economy, so yes, we need the trade links, we need the investment."
Cameron said Monday that Xi would bring more than 30 billion pounds ($46 billion) in deals and investment on his visit, creating 3,900 jobs in the U.K. in sectors including the creative industries, retail, energy, health and technology, financial services, aerospace and education.
China and the U.K. are at "critical" stages of national development and face the "challenging task" of promoting reforms to improve people's lives, Xi said in prepared remarks at a state banquet on Tuesday evening at Buckingham Palace hosted by Queen Elizabeth II.
"As the China-U.K. comprehensive strategic partnership enters the second decade this year, let us seize the opportunity and work together to usher in an even brighter future," he said according to a transcript.
Before it's here, it's on the Bloomberg Terminal.
LEARN MORE