Photographer: Ben Stansall/AFP/Getty Images
Charting the Markets: Equities Tumble, Xi Comes to Town
InterContinental revpar jumps worldwide except greater China, Whitbread stock brews up and the renminbi rises
by
European equities fell the most in six days after rising at the open. The culprit? Basic resources and big oil. The Shanghai Composite, on the other hand, rose almost 1.2 percent on Tuesday. China's stock market has rattled global investors this year, but it's still up by close to 6% year to date.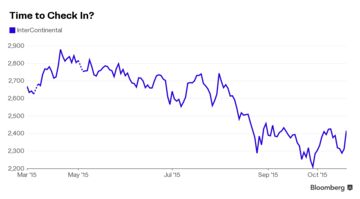 Intercontinental was Tuesday morning's best performer on the Stoxx 600. Shares in the world's largest provider of hotel rooms rose the most since July – more than 5 percent at one point. InterContinental said the amount of money it took in per hotel room – known in hotel investor jargon as "revpar" – rose 4.8% in the third quarter. That performance beat estimates. Revpar grew a surprising 7.8 percent in Europe, the bright spot for Intercontinental globally. Greater China was the weak spot with revpar falling by close to 1 percent after Hong Kong and Macau saw double-digit falls in revenue. On a conference call with investors, the company's CFO said Airbnb, the website/home-sharing service, is not affecting their core business.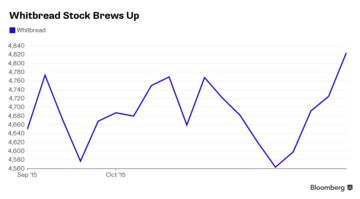 Whitbread is a big business with a lot of hotels, restaurants and the ubiquitous Costa Coffee chain – and it's on the rise. Pre-tax profit narrowly beat estimates at £291 million. Revenue for the third quarter was smack in line with expectataions at £1.4 billion. There's no silver bullet to point to on this one, and investors appear happy enough this time around after Whitbread disappointed the market with negative news back in August. That now looks like a one-off.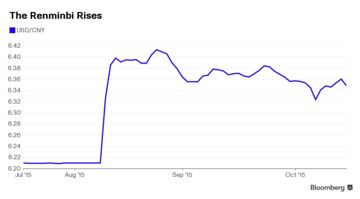 Interest is growing in the Chinese renmibi just as  President Xi Jinping rocks up in Britain for a much-hyped state visit. The USD-Renminbi is the third most-popular trade today on ICAP's Electronic Brokering System; it is normally closer to the 5th most traded currency on the platform.
The interest comes as the renminbi strengthened against the dollar, rising at one point the most in eight days. The yuan has strengthened close to 0.8 percent since China allowed the currency to devalue the most in two decades in August. Nevertheless, if Xi was paying for his room tonight at Buckingham Palace – and he is NOT – it would still be a couple per cent cheaper now than in the summer.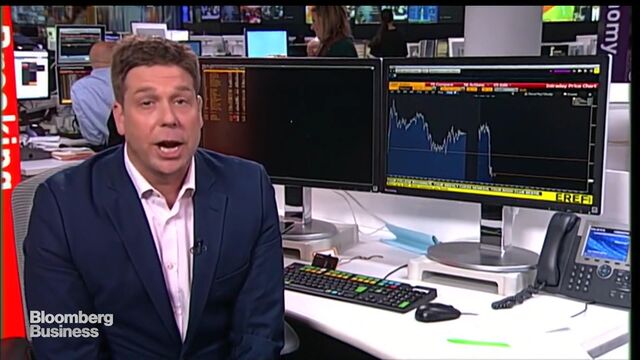 Ryan Chilcote is a presenter on Bloomberg TV. Follow him on Twitter @RyanChilcote
Before it's here, it's on the Bloomberg Terminal.
LEARN MORE