Carmakers Find Fuel-Economy Hardware Causes Quality Issues
by
Transmissions cited by Consumer Reports annual survey

Model S no longer recommended because of poor reliability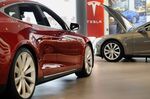 As automakers race to meet tougher government fuel-economy standards that take effect in the next decade, they are finding trouble with some of the hardware that will get them there, according to a Consumer Reports' survey.
Newly developed transmissions were one of the two top problem areas affecting ratings, Consumer Reports said in its Annual Auto Reliability Survey, released Tuesday. The other was in-dashboard infotainment systems. The Yonkers, New York-based publication surveys consumers to create rankings based on reported defects.
Automakers have been adopting new transmission technology and adding more gears so engines can run at optimal fuel economy. Mastering the technology has caused problems even for Honda Motor Co., which tumbled from near the top of 2014's reliability rankings to the middle of the pack, in part because of transmission issues.
"Automakers are trying to do everything they can to get fuel economy," said Jake Fisher, the publication's director of automotive testing. "We're back to trouble with gears. You'd think they know how to get hardware right."
Transmission technology is one of the ways automakers are responding to meet a U.S. Environmental Protection Agency standard for collective fleet fuel-economy average that will rise to 54.5 miles per gallon in 2025 from 35.5 mpg now. New models and cars that add technology tend to have problems as automakers need to time to find problems and fix them, Fisher said.
Toyota at Top
Toyota Motor Corp.'s Lexus luxury division and its namesake brand claimed the top two spots in the survey. Toyota makes very efficient cars and hasn't had many reliability problems, Fisher said.
Under Consumer Reports' survey, if individual vehicle models don't at least score as "reliable" for quality, it won't recommend them to potential buyers. Among 28 brands in the survey, seven were rated as "most reliable," eight as "reliable" and 13 as "least reliable."
In recent years, infotainment systems that control features such as music and navigation systems have caused the most problems, as consumers found the controls and software behind the systems to be unreliable, Fisher said. Those are still an issue, but carmakers are improving the dependability of those systems, he said.
Honda's issues with infotainment systems and new transmissions contributed to the company's Acura luxury division falling seven spots to 18th. Acura owners reported problems with the infotainment features in its RLX and TLX sedans, as well as with the company's 8- and 9-speed transmissions. The automaker's namesake brand finished eighth, down four sports from a year earlier.
Nissan Motor Co.'s main brand also had reliability complaints on some of its transmission technologies, while still finishing 15th, within the "reliable" category.
Detroit Woes  
Among brands of the three Detroit-area carmakers, only General Motors Co.'s Buick was rated as "most reliable." The next-highest ranking was 17th, in the "least reliable" category, for Ford Motor Co.'s main brand.
GM's Cadillac luxury division slid seven slots to 25th, mostly because of its Cue infotainment system, Fisher said. The company's Chevrolet brand moved up one spot to 20th.
Volkswagen AG's main brand moved up to 13th, from 17th a year earlier, and its Audi luxury division finished third, a gain of two spots. The survey was done before the automaker's admission last month that it cheated on U.S. diesel emissions tests.
Owners of Tesla Motors Inc. 's Model S sedan, introduced in 2012, reported "an array of detailed and complicated maladies," Consumer Reports said in a statement. Adding features like a sun roof led to reliability issues, and Model S owners also complained about having to replace the electric motor, Fisher said. The publication didn't rate the Tesla brand because that required enough responses for at least two models, and because the Model S rated below average, the highly rated electric car is no longer on the magazine's recommended list.
Tesla shares fell as much as 7.1 percent, the most in eight weeks.
Fiat Chrysler Automobiles NV fared worst in the survey, with its Ram, Jeep and Fiat brands in the bottom three spots. Chrysler and Dodge fared slightly better, at 22nd and 23rd.
Fiat has long been known for quality problems, as was the former Chrysler before the two merged, Fisher said.
"One company with poor quality bought another one with poor quality," he said.
Before it's here, it's on the Bloomberg Terminal.
LEARN MORE