Canada Marijuana Stocks Higher as Liberals Vow Legalization
by and
Justin Trudeau had pledged to legalize marijuana if elected

Canopy Growth, Aphria, Mettrum among stocks seen benefiting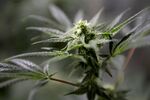 Canadian marijuana stocks jumped after Justin Trudeau's Liberal party clinched a decisive victory in the country's election Monday, with a pledge to legalize the substance among his policy promises.
Canopy Growth Corp. increased 11 percent to C$2.43 at 10:38 a.m. in Toronto after climbing as much as 21 percent. Aphria Inc. rose 5.3 percent to C$1 and Mettrum Health Corp. gained 7.6 percent to C$1.98 after jumping 18 percent. The companies already produce marijuana for medical use, which is legal in Canada.
"Trudeau's vow to legalize and regulate marijuana the 'right way' has set in motion the single most important catalyst for the marijuana space," Dundee Capital Markets analyst Aaron Salz said in a Tuesday note to clients.
Trudeau's Liberals swept districts in Atlantic Canada, Quebec and Ontario to win a majority government, ousting Stephen Harper's Conservatives after more than nine years of government. The Conservatives had upheld restrictions on recreational cannabis use during their reign.
Trudeau's platform calls for removing marijuana offenses from the criminal code and drawing up new rules for selling and taxing the drug.
"That makes a big difference because that means they have to get it from a
known and controlled supply chain," said Bruce Linton, chief executive officer of Ontario-based Canopy Growth. His company is already positioned to take advantage of new rules, he said by phone.
Not Imminent
"We have been the most aggressive capital raiser and creator of an asset
which is now 500,000 square feet of facilities," Linton said. "We've got the engine running nicely now."
Legalization is unlikely to be an imminent priority for the government, Andrew Pyle, a fund manager at ScotiaMcLeod Inc. in Peterborough, Ontario, said by phone. His team manages about C$300 million ($230 million).
"You'll see an initial move higher," Pyle said. "Not sure how sustainable that will be, it will come down to when these policies come into place."
Before it's here, it's on the Bloomberg Terminal.
LEARN MORE