Which Lefty Brit Will Write Biden's Stump Speech?: Read My Lips
Laurence Arnold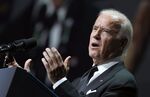 10/15/15 To: VPOTUS From: Team 2016
Mr. Vice President: Your presidential campaign staff-in-waiting continues to work on a stump speech, should you need it, and we have an exciting concept to present for your OK.
It has come to our attention that some candidates in elections past have been tripped up by taking material from the speeches of others without proper attribution.
With that in mind, we propose writing an entirely original canon of political speeches -- Joe being Joe, you might say. Everything original, nothing borrowed. This strikes us as the best way to avoid any groundless, scurrilous charge of plagiarism -- not that anybody would suspect that of you anyway.
Once we get your green light, we'll proceed.
10/16/15 To: VPOTUS From: Team 2016
Mr. Vice President: We are in receipt of your comments -- the ones in red ink, capital letters and what must be the language of Scranton, PA -- on our memo proposing all-original content in campaign speeches.
To the degree that our proposal was, as you say, "bush league," we apologize. You are surely right that, at 72 years old, with four decades of political experience under your belt, you are entitled to incorporate the wisdom of leaders you admire.
Since it's now clear that we will in fact be sprinkling quotes from others, we recommend doing so with clear attribution, and by avoiding contemporary politicians. "As Jesus said to his apostles," for example. Or "This is what an Amtrak conductor told me on March 7, 1991, somewhere between Baltimore and BWI." This would minimize the fodder for baseless accusations by competing campaigns and troublemaking reporters.
We probably can make an exception for quoting POTUS saying that adding you to his ticket in 2008 was the smartest political decision he's ever made.
We're raring to get to work as soon as you sign off.
10/17/15 To: VPOTUS From: What's Left of Team 2016 (Bob, Skip, Mary)
Mr. Vice President: Your unhappiness with the campaign team has been duly noted. We wanted to get you this newly revised plan before we head out to this evening's going-away party for Gene, Silvia and Nathan.
Yes, you're right -- we were trying to protect you from anything resembling your 1988 run-in with that P word. You are no doubt correct that that unfortunate long-ago incident has been forgotten and won't be an issue this time around.
We promise: no more filters, no more limits, no more attempts to shackle the real you. If you think it appropriate to massage a woman's shoulders, then by all means, go for it. If you think something is a big f--king deal, call it a big f--king deal. Let those pinheads in the press make fun of your freewheeling speaking style; we agree with you that it's a strength, not a weakness.
Let's just steer clear of any language that might be affiliated with British politics. That might be too strong an invitation for comparisons to what happened to you back in the 80s.
10/18/15 To: VPOTUS From: Bob and Mary
Mr. Vice President: While being escorted to his car, Skip asked us to pass along to you his gratitude for employing him for these exciting and fulfilling last few weeks. He said it was a highlight of his political career, up there with helping set up the Howard Dean general-election campaign of 2004.
Please be assured that the two of us get your point.
As you requested, we reviewed a speech by Ed Miliband, who is the closest thing there is today to that Kinnock guy you liked so much. One section that struck us as appropriate for borrowing in your campaign stump speech:
"I believe that most people will agree that it is time for a crackdown on tax avoidance. I do not believe it will ever happen with David Cameron and George Osborne."
Just don't forget to insert "Carly Fiorina" or "Marco Rubio" in that last sentence.
We see this as a safe way to inject the fresh, winning ideas of the British Labor Party, which we know you want to do, without repeating the Kinnock mess, which we know you don't. You wouldn't want to actually want to adopt pieces of another man's life story, right?
10/19/15 To: VPOTUS From: Bob
Mr. Vice President:
Here's that excerpt from a Miliband address that I'll be putting into your announcement speech:
"In 1940, my grandfather, with my dad, climbed onto one of the last boats out of Belgium. On the other side of Europe, my mother, aged five, had seen Hitler's army march into Poland. She spent the war on the run sheltering in a convent and then with a Catholic family that took her in. Two young people fled the darkness that had engulfed the Jews across Europe, and in Britain they found the light of liberty."
You're probably right that nobody will suspect a thing.
***
As Democrats prepared for their first debate, Marco Rubio just knew he was going to be a prime target.
Hillary Clinton's campaign, he wrote in an e-mail to supporters, "is failing as her other opponents gain momentum, other candidates are considering entering the race, and she's plagued by ongoing scandals." So "all she can do is attack me," and "we know it's coming."
"She's desperate, and that means one thing: they're going to come after me (again) next week."
Those willing to come to Rubio's rescue were asked to donate to his "Democrat Debate Fact Checking Fund." The suggested gift was $50.
Did it work? We'll never know. The Democrats uttered some 22,000 words during their two-hour debate. "Marco" and "Rubio" were not among them.
***
An actual pitch from our inbox:
"Society views baldness as the norm for a lot of men, but because it makes men look older and less appealing many bald men are overlooked for jobs, dates, and even a spot at being the President of the United States. ... We have several hair surgeons who can speak to this, and one doctor who has written a book on the importance of hair, which includes a chapter on how a bald man wouldn't be elected to president. Would you like to speak with one of our doctors?"
("Read My Lips'' is a column dedicated to the proposition that men and women in a position of power, or the pursuit of it, will say or do things for which they will be sorry.)
Before it's here, it's on the Bloomberg Terminal.
LEARN MORE