Valeant Responds to Price Critics, May Sell Neurology Unit
by and
CEO says looking at strategy less dependent on price increases

Company reported third-quarter earnings that beat estimates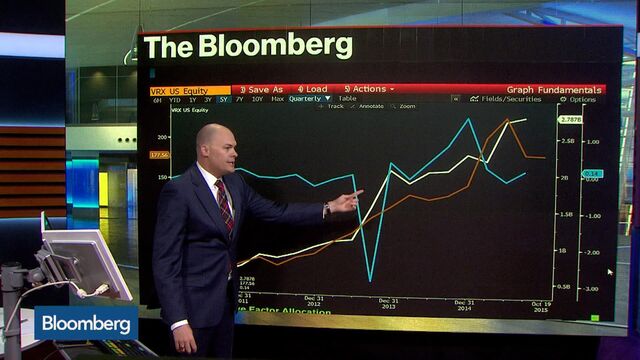 With its business practices under scrutiny from lawmakers and prosecutors, Valeant Pharmaceuticals International Inc. said it may spin off one line of drugs and focus less on acquisitions that depend on buying old treatments and raising their prices. The shares fell.
The drugmaker may get rid of its neurology and "other" drugs business, which is more dependent on price increases than other units, according to Evercore ISI. The unit will make up about 10 percent of sales in 2016 and is expected to continue to shrink, the company said after reporting third-quarter adjusted earnings that beat analyst forecasts.
"Given the current environment, I think that it probably doesn't make sense for us to hold on to it," Chief Executive Officer Michael Pearson said Monday on a conference call. "Hopefully we'll figure out a way to do it in a way that shareholders can continue to participate in an entity that's maybe not a growth company, but a big dividend company."
The divestiture is part of several moves Valeant is making to address criticism that some of its rapid growth has come from raising prices on old drugs bought with the company's many acquisitions. The company said last week that it received subpoenas from the U.S. Attorney's Office in Massachusetts and the Manhattan U.S. Attorney's Office seeking information on its patient assistance programs, drug distribution and pricing decisions. Lawmakers in Washington have demanded to know why Valeant's heart drugs Nitropress and Isuprel increased by 212 percent and 525 percent after company acquired the rights to sell them.
Valeant also said it will:
Spend more on research and development
Pursue fewer, if any, transactions based on drug prices
Keep drug-price increases to a low single-digit rate next year
Disclose revenue growth from price increases, compared with volume


The shares fell 4.9 percent to $168.79 at 10:15 a.m. in New York. They had dropped 26 percent since Sept. 17, as of Friday's close.
"The public and political pressure on VRX is not going away," said Spencer Perlman, an analyst with Height Analytics in Washington, in a note, referring to Valeant by its ticker symbol. "The company will remain under a political and legal microscope for some time."

Pearson said he may take advantage of the weak share price to buy back stock this year or next. The company also plans to make more than the required debt repayments during the first half of next year, cutting a debt load that has amassed after repeated deals.
That debt plan may signal that Valeant will slow down the pace of acquisitions, said Irina Koffler, an analyst at Mizuho Securities USA.
"That has always been a traditional source of sizzle for the stock," she said. "I think they're being appropriately cautious -- it's just that I don't know that investors were expecting that from this very pure-play, capitalist type of a company."
Prices for drugs rose in the third quarter, the company said in a statement announcing results, and 15 percent of the company's growth in the U.S. was from price increases, compared with 19 percent from increased volume.
$1 Billion
A sale or spinoff of the neurology and "other" division would be worth more than $1 billion, Evercore ISI analyst Umer Raffat said in an e-mail.
Divesting the unit could help with the political pressure on the company by taking the focus off of the use of price increases as a source of growth, said Annabel Samimy, an analyst with Stifel Nicolaus & Co.
Valeant is budgeting about $400 million to $500 million for research and development spending next year. The company spent $102 million on R&D last quarter.
This month, Valeant responded to critics of its drug prices in a filing, saying that various researchers were inaccurate and that the company hadn't benefited as much from drug-price increases as the reports had said. Valeant believes it has operated in a "fully compliant manner," Pearson said in a statement.
Earlier Monday, Valeant reported third-quarter profit of $2.74 a share, excluding one-time items, topping a $2.70 average of 20 analysts' estimates compiled by Bloomberg. Revenue rose 36 percent from a year earlier to $2.79 billion. Analysts had projected $2.78 billion on average.
Valeant raised its forecast for sales in the fourth quarter to $3.25 billion to $3.45 billion, and adjusted earnings on a per-share basis to $4 to $4.20. Previously, the company had forecast revenue of $3.2 billion to $3.4 billion and adjusted earnings of $3.98 to $4.18 a share.
(An earlier version of this reported corrected Valeant's share performance.)
Before it's here, it's on the Bloomberg Terminal.
LEARN MORE