Thiam's Investment Bank Vision Seen Key to Credit Suisse Plan
by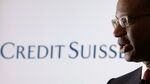 Tidjane Thiam, brought in to rebuild investor confidence, faces his first test Wednesday when he presents plans for boosting profit at Credit Suisse Group AG. Whether the strategy passes muster will depend on how he trims the securities unit.
Investment-bank returns are under pressure from tougher capital requirements and record-low interest rates. Investors want the Swiss company to scale back the securities unit and build up the business of managing clients' money. This may mean cutting back some units that are still turning a profit.

"What would actually be significant is if the new management chose to cut performing parts of the business within the investment bank," Amit Goel and Jag Yogarajah, analysts at Exane BNP Paribas, said in a note. "This could lead to significant earnings downgrades in the near term, but on a five-year basis it could be the right call to make."
Thiam, 53, is wrestling with some of the same challenges that have prompted Deutsche Bank AG to pare back its securities unit as the German lender endeavors to revive profit. The executive has said he wants to make the business "less capital-intensive" and that he would be "ruthlessly selective" about where to invest.
'High Expectations'
Thiam will probably tap shareholders for funds and may also announce cost cuts and the sale of some assets. "I know that the expectations are high," he said in a memo to employees on his first day on the job in July.
Shares have stagnated as markets awaited the first strategy from a chief executive officer who until a few months ago had no experience leading a bank. Credit Suisse shares were little changed at 24.59 francs at 10:34 a.m. Tuesday in Zurich.
Thiam, 53, who joined from U.K. insurer Prudential Plc, inherited a global lender facing challenges on a range of fronts. While Credit Suisse managed to get through the financial crisis relatively unscathed, its share price has lagged those of peers in recent years.
Some investors criticized Thiam's predecessor, Brady Dougan, for failing to shrink the investment bank fast enough amid a post-crisis backlash that curbed some of its most lucrative practices. The bank is also trying to repair damage to its reputation after paying a $2.6 billion penalty and pleading guilty last year to helping Americans evade taxes.
Thiam says he wants to retain profitable activities while freeing up resources to grow elsewhere. He plans to expand the business in Asia, where the number of rich people is rapidly rising. To free up the capital for that, he may have to go beyond pruning weaker units. All the strategic units in the investment bank were profitable in the last year, making sweeping cuts a less obvious choice.
'UBS Light'
The investment bank, which accounts for about half of the bank's assets, returned 12 percent on regulatory capital in the first half, less than the 22 percent returned by private banking and wealth management. 
Credit Suisse will probably do a "UBS light", said Conor Muldoon, who helps manage about $40 billion at Causeway Capital Management LLC, including UBS and Credit Suisse shares. The question is, "are they going to struggle with returns in that investment bank going forward?"
UBS Group AG downsized its investment bank three years ago to focus more on stable wealth management and exiting large parts of the fixed-income trading business. That has helped lift the shares 36 percent since the start of 2013, compared with 13 percent at its smaller Swiss rival.
Results for the third quarter may show the merits of a business model that focuses more on wealth management. A market rout over the summer that ensnared assets from junk bonds to emerging-market currencies dented results at U.S. banks, boding ill for Credit Suisse's trading businesses.
Goldman Sachs Group Inc. reported a 34 percent decline in fixed-income trading revenue in the third quarter, exceeding the 23 percent slump at JPMorgan Chase & Co. and 11 percent decline at Bank of America Corp., excluding accounting gains. Morgan Stanley on Monday reported a loss related to private-equity investments in China, posting what CEO James Gorman called the worst quarter for fixed income since the financial crisis.
Prime services, which serves hedge fund clients, and macro -- trading rates and foreign exchange -- are likely to bear the brunt of cuts to the investment bank. Credit Suisse had been trimming the two units under Dougan. Both earn lower returns on the capital than other activities at the securities division, and the situation may get worse.
Switzerland's finance ministry is set to demand that the country's biggest banks hold capital of about 5 percent of total assets, in line with the U.S. leverage ratio for its biggest banks and above the 3 percent globally agreed requirement, according to people briefed on the deliberations, who asked not to be identified because the talks aren't public.
The investment banking business is "intrinsically profitable," Barrington Pitt Miller, an analyst at Janus Capital Group Inc., said by phone. Thiam "risks cutting into muscle when he takes the next step."
Before it's here, it's on the Bloomberg Terminal.
LEARN MORE