Photographer: Keith Bedford/Bloomberg
The Great Ball of China Money Rolls Into Bonds
Bringing leverage and distortion in its wake.
by
China's markets resemble nothing if not a great rolling ball of money that moves from asset class to asset class, constantly searching for the next source of sizable returns.
After shifting away from stocks this summer, when the value of the Shanghai Composite Index almost halved in a dramatic market selloff, the Great Ball of China seems to have found a new home: bonds sold by Chinese corporates.
The strength of the switch into corporate credit is underscored in a new report from Zhi Ming Zhang, director of asset allocation research at HSBC, and financial analyst Helen Huang, who argue that the links between China's credit market and other parts of its financial system have been strengthening.
While the daily turnover of A-shares — shares generally reserved for mainland Chinese investors — has shrunk to a quarter of what it was at the market's peak, a major hallmark of Chinese markets has already been making its way into corporate credit: namely, leverage.
"Since the equity market slide started in July 2015 and liquidity switched from equity to credit products, there has been a growing leveraged investment in corporate bonds listed on the exchange market," the two analysts note.
Where China's retail investors traded stock on margin, when it comes to corporate bonds investors appear to be using a different form of leverage known as repo. Repoing bonds allows investors to effectively pawn the securities in exchange for short-term loans that can be used to buy additional assets.
According to HSBC, the daily volume of one-day repos on the Shanghai Stock Exchange has doubled since 2014, indicating investors are using that particular form of leverage to juice their returns. Meanwhile, structured products that allow investors in more junior tranches to leverage on the senior slices have also appeared, effectively allowing investments to be leveraged by as much as 10 times.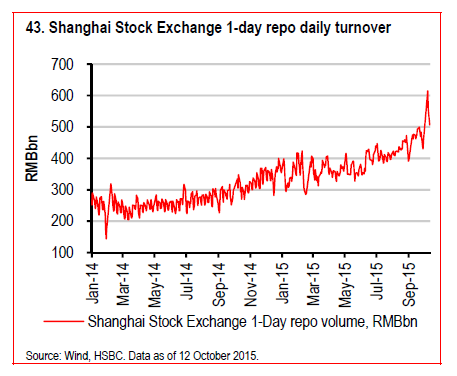 That has culminated in a rather topsy-turvy effect for China's corporate credit market.
Where the yield for five-year AAA-rated exchange-traded corporate bonds was about 70 basis points higher than the yield on Chinese government bonds as recently as July of this year, it compressed to as little as 10bps in September.
One Chinese company — a property developer known as China Vanke — managed that month to sell a 5 billion yuan ($785 million) bond at a yield of 3.5 percent. That was 4 basis points lower than the yield of China Development Bank bonds that effectively come with a government guarantee and a zero risk weighting, meaning investors are asking for less of a return to hold China Vanke debt.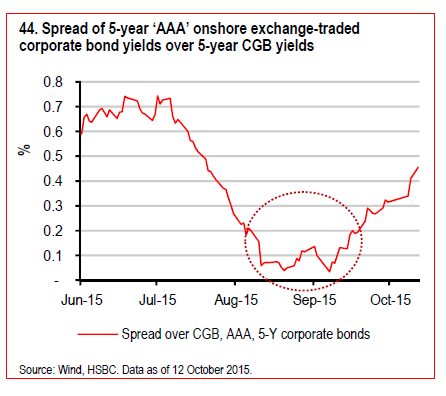 All of which indicates that China's Great Ball of money has well and truly arrived in the corporate credit space, and has carried with it its hallmark distortive effects.
Meanwhile, Zhang and Huang argue that the growing intricacy of China's credit markets, and its entwining with other areas of the country's financial system, demands a new approach from policymakers.
"This new normal is not just simply about slower growth but also the increasing sophistication and linkages between different economic and financial factors and asset classes," they write. "In turn, a wider group of asset classes now requires policy support to ensure the smooth functioning of the financial system. This explains why policy is becoming more experimental — entering uncharted territory requires new thinking."
Before it's here, it's on the Bloomberg Terminal.
LEARN MORE