Short Sellers Gain Upper Hand on Frost's Opko After 700% Surge
by
U.S. health company's stock has fallen by half since June peak

CEO says acquisition, drug development will prove shorts wrong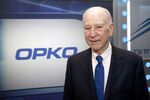 Billionaire Phillip Frost abruptly interrupted a meeting at his waterfront Miami office last month to make a phone call. As short sellers drove down the share price of his company Opko Health Inc., Frost ordered his broker to purchase more stock.
"My father had an expression that I live by," said Frost, 78. "When they're giving, take. When they're taking, give."

Frost, Opko's chairman and chief executive officer, has taken from short sellers for years. Now the tables have turned. After soaring almost 700 percent since Frost took over, Opko's shares have been cut in half since June, and it's still one of the most bet-against U.S. health-care stocks, according to data compiled by Bloomberg. Skeptics contend the company's new products will be disappointing and the acquisition of controversial lab operator Bio-Reference Laboratories Inc. won't pay off.
Opko's announcement in June that it would buy Bio-Reference for $1.5 billion started the decline. Opko issued shares to pay for the purchase, diluting the stakes of existing investors, and in return got a business that also had been targeted for years by short sellers, who said the company struggled to collect payments from customers and used aggressive sales tactics. According to merger filings, Bio-Reference had been looking for a buyer since 2009, and even though 12 potential suitors sought due diligence materials between 2014 and 2015, none made an offer.
The decline in Opko accelerated with the broad selloff of biotech shares that began in July.
'Easy Target'
"When the biotech rout came, it was an easy target for the shorts," said Ori Hershkovitz, chief investment officer at Nexthera Capital, a New York-based hedge fund that doesn't have a position in the stock.

Frost created Opko in 2007, after selling Ivax Corp. to Teva Pharmaceutical Industries Ltd. for about $7.5 billion the previous year. His 34 percent stake makes him the largest shareholder of the unprofitable Miami-based company, which has businesses that include pharmaceutical distribution in Chile and Mexico, drug-ingredient manufacturing in Israel and development of its own proprietary medicines and diagnostic tests. With Bio-Reference, it now also operates a chain of U.S. clinical labs.
Opko at its peak in June had a market capitalization of more than $8 billion on less than $100 million in sales. All the while, the stock was among the most-shorted health-care issues in the U.S. Skeptics railed that Frost touted products that repeatedly faced delays or simply failed to make it to the market, and that he engaged in serial acquisitions that didn't pay off. Short sellers sell borrowed stock, with the goal of repurchasing it at lower levels, then returning it to the lender and pocketing the difference in price.
Lakewood Capital Management LP, a New York investment firm run by Anthony Bozza, published a 48-page report in 2013 titled "The Placebo Effect" that said Opko's true value was zero. Projects such as an Alzheimer's test failed, while other investments, such as a diagnostics system for doctors, faced delays, the firm said at the time. The company's valuation is based almost entirely on Frost's near-mythic reputation for doing deals, Lakewood said. The firm declined to comment last week on whether it's still betting on a drop in Opko shares.
Frost's Purchases
Short sellers point out that institutional investors have largely shied away from Opko. They own 29 percent of the float, or the shares available for trading. That's the lowest among 26 specialty-drug companies of similar size, according to data compiled by Bloomberg.
Frost, meanwhile, buys more shares on a near-daily basis, though the purchases aren't meaningful because the vast majority of his stock was purchased years ago at prices that are a fraction of today's levels, said Richard Pearson, an investor at Pearson Investment in Marina Del Rey, California. But they do encourage individual investors to buy, helping to prop up the price.
"It's the cult of a billionaire and the retail money that will chase these guys to no end," said Pearson, who has intermittently placed bets that Opko shares will fall. "It's a grim topic, but without Frost this is a $1 stock."
Frost says it's hard to understand Opko's share slide. The Bio-Reference purchase, which closed in August, will transform the company into a money maker with more than $1 billion in sales, he said. And while Opko struggled to capture market share in the lab-testing business, it will now have seasoned employees who can help sell its products, including the 4kscore test, an improved version of the PSA blood test for prostate cancer, he said.
'Cheap Shots'
"Some people put out reports that took cheap shots at them," Frost said of his latest acquisition. "There's been accusations of problems with billings and collections, but everything is clean as a whistle. It's in my mind the most significant acquisition I've ever been involved with."
The market also is missing out on the potential of its drug-development business, says Frost. Pfizer Inc. last year licensed Opko's long-acting human growth hormone drug under development for a $295 million upfront payment, with as much as $275 million in additional payments if development goals are met. Next year the U.S. Food and Drug Administration will decide whether to approve Opko's drug for chronic kidney disease and vitamin D insufficiency and last month a treatment for chemotherapy-induced nausea that Opko out-licensed was approved and will earn royalties. Other products, such as an obesity treatment in early stages of testing, could be multibillion-dollar blockbusters, he says.
Making Deals
Frost, a dermatologist originally from Philadelphia, has a history as a money maker. He turned a $50,000 investment in Key Pharmaceuticals Inc., a struggling drug developer, in 1972 into a $825 million sale to Schering-Plough Corp. 14 years later. He sold his next company, generic-drug maker Ivax, to Teva, where he went on to serve as chairman. Frost, who says those companies were also heavily shorted, says his goal is to build Opko into one of the world's largest health-care companies.
With the shares' decline from their June record, some short sellers have started to unwind their positions. About 18 percent of the float had been sold short as of Sept. 30, down from 22 percent at the end of July. And to be sure, the stock could rebound if the plunge in the broader biotech market has ended.
The stock has already bounced from its recent low Sept. 30, and it got a further boost Friday when analysts at JPMorgan Chase & Co. began coverage with an overweight rating. The firm, the first major investment bank to follow Opko, says the shares could reach $14 by the end of next year, 49 percent above where it ended last week.
Pearson, the short-seller, never made money on his early bets. With the stock down from more than $19 to $9.39, he isn't willing to bet against Frost.
"I gave up because you can't fight Dr. Frost," said Pearson. "I'm no longer fighting billionaires if I can avoid it. He's going to be right until he's wrong."
Before it's here, it's on the Bloomberg Terminal.
LEARN MORE