Options Traders Betting on a Boom in European Bank Earnings
by and
Banks can withstand negative macro events, strategist says

Improving earnings prospects, uptick in lending to help shares
As U.S. bank earnings wind down just as Europe's kick off, a contrast has emerged in the options market.
While investors bought up protection before earnings day at Morgan Stanley and Goldman Sachs Group Inc., costs to hedge volatility in European banks touched a three-year low versus the broader market. And the spread in Europe will remain low -- a sign that the industry is poised to bounce back from its worst quarter in more than three years, says Citigroup Inc.'s Alexander Altmann.
Altmann recommends shorting the Euro Stoxx 50 Index while buying the sub-index of banks, pointing to improving earnings prospects, an uptick in lending and declining valuations as reasons for optimism. Among firms reporting next week are Deutsche Bank AG and Spain's Banco Santander SA.
"If you believe in the European recovery, you have to believe in a banking one," said Altmann, Citigroup's head of equity-trading strategy in London. "The sector slipped under the radar a little bit -- everyone has become focused on China or a global growth slowdown. The data we get from third-quarter results will be an opportunity to move on. European banks are pretty well capitalized to absorb any negative headlines."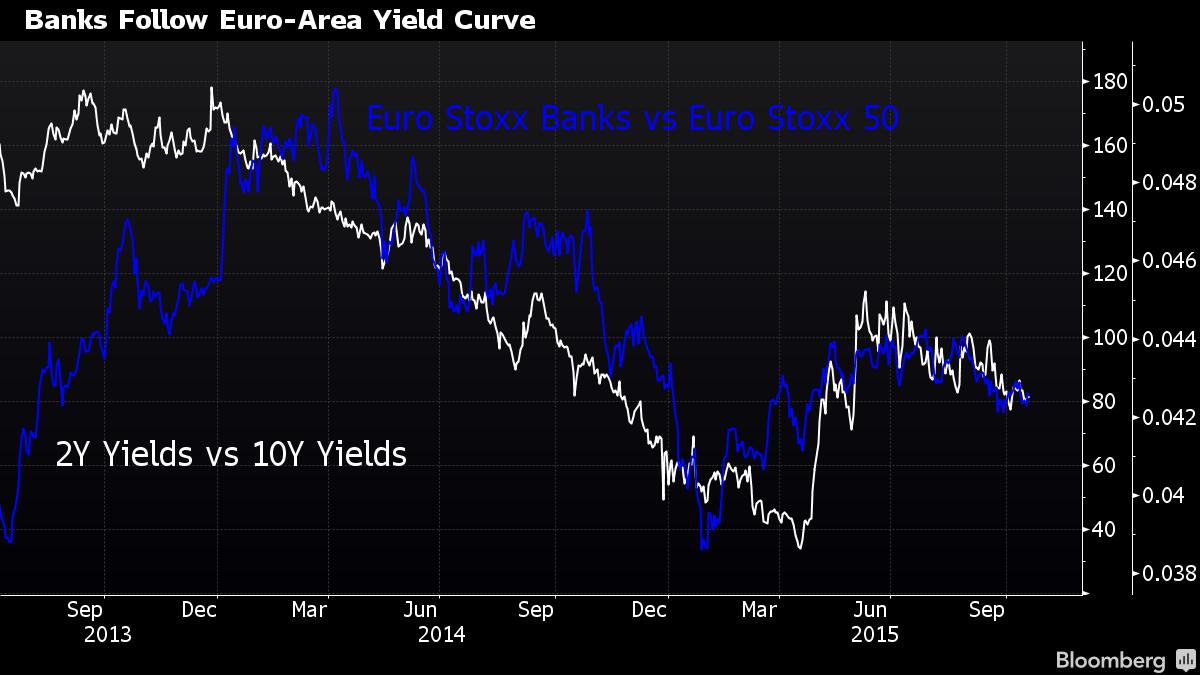 The chart above shows a pattern: When longer-dated bond yields turn higher versus those on shorter-maturity debt, lending tends to become more profitable, and that's a good omen for bank shares. Earnings at lenders are expected to grow 20 percent this year, one of the biggest forecasts among industry groups.
A Bank of America Corp. survey of fund managers this month showed banks are the third-most undervalued industry in Europe. The lenders gauge trades at 0.8 times book value, compared with a multiple of 1.49 for the Euro Stoxx 50. By comparison, U.S. banks trade at 1.1 times book value.
The Euro Stoxx 50 slipped 0.6 percent at 9:41 a.m. in London, while the bank gauge declined 1 percent after the European Central Bank said its quantitative-easing program will reduce lenders' profitability in the next six months.
Regulatory pressures to increase equity requirements have held back profitability for lenders since the financial crisis. The ECB is currently finalizing proposals that would require lenders to once again beef up their so-called Tier 1 ratios, a move criticized by Italy's Fabio Panetta, a member of the ECB's Supervisory Board, for threatening to derail the region's recovery.
"Regulation is the foremost insecurity for European banks going forward," said Matthias de Wit, a banking analyst at KBC Securities in Brussels. "A large number of regulatory proposals have been made in a very short period. This creates a lot of insecurity for dividend prospects and the possibility of returning capital to shareholders."
To appease regulator demands for higher capital levels, Deutsche Bank said it will try to lower costs to avoid tapping investors for further cash. BNP Paribas SA has also been trimming operations. And outside of the euro zone, Credit Suisse Group AG has said it will focus on businesses that operate "comfortably" above their cost of capital.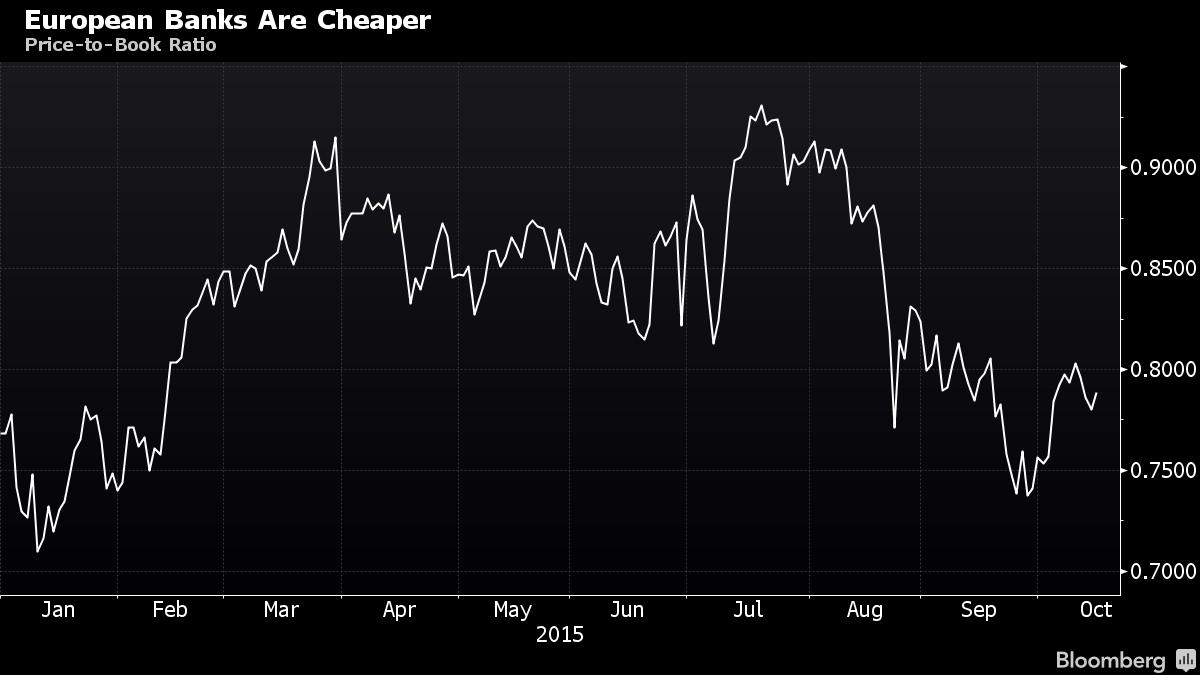 Kevin Lilley at Old Mutual Global Investors says any bad news should be either expected or out of the way by now.
"Capital raising is largely done apart from a couple of well-flagged investment banks," said Lilley, who manages European equities at Old Mutual in London. His funds have an overweight allocation to lenders. "Price-to-book now looks more attractive. Banks should now respond more directly to European growth once again."
Before it's here, it's on the Bloomberg Terminal.
LEARN MORE