Kim Jong Un Permits Family Reunions to Gain Leverage With South
by
South Korean tour groups bring in much-needed hard currency

Better peninsula ties improve odds for Kim visit to China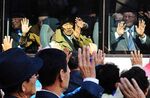 Lee Taek Gu is about to meet his little sister -- something he's waited 65 years for.
The 89-year-old South Korean will join about 186 families this week at North Korea's Geumgang mountain resort, where he'll be reunited with his sibling for the first time since the 1950-1953 Korean War split the peninsula and hundreds of thousands of families. He's one of the lucky ones.
More than 80 percent of survivors are over the age of 70. About half the 130,000 South Koreans who have applied since 1988 to meet loved ones in North Korea in 19 organized reunions have died. Only about 1,900 Koreans have been physically reunited since the conflict ended in a truce -- the frequency of the meetings rising and falling since the year 2000 as diplomatic tensions wax and wane. This week's reunions, starting Tuesday, are the first since February last year and follow an August agreement between the two Koreas to cool a military standoff.

"I'll probably cry a lot when I see my sister, how could I not?" Lee said. "My heart's fluttering so much. I've prepared a jumper, underclothes, a toothbrush and other things she might need. I'm so happy right now."
During the encounters, the families will spend three days together, sharing food in halls under the watchful eye of North Korean minders. They'll also get some private time in hotel rooms, in which the South Koreans will give their relatives from the North everything from hard currency to cold medicine. The final day will be tearful as it may well be the last contact they have with their loved ones as further communication without government consent is banned by both countries.
So why is North Korean leader Kim Jong Un allowing the families to cross one of the world's most heavily militarized borders for this week's reunions?
Tourism Cash
The reunions help raise the profile of the resort and aid North Korea in its push to resume tourism to Geumgang. A return of South Korean tourists to the east coast resort would provide North Korea, squeezed by international economic sanctions, with a source of hard currency. Such tours generated hundreds of millions of dollars for the Pyongyang regime until they were suspended in 2008 when a visitor was shot dead by a North Korean guard.

While South Korea maintains the Geumgang tours will not resume until North Korea punishes those responsible for the killing and promises no recurrence, tour operators in the South have been buoyed by the prospect of resumption. Hyundai Merchant Marine Co., the biggest stakeholder in tour operator Hyundai Asan Corp. has gained since the start of 43-hour-long talks in August that ended in an agreement to resume the reunions.
Kim has spent a lot of money building up the capital of Pyongyang since he came to power, and a huge military parade this month cost him a fortune, said Kim Jung Bong, who served in South Korea's National Intelligence Service and now teaches political science at Hanzhong University. "He needs better relations to get the aid he needs."
Emotional Tug
South Koreans consider the reunification of the families an urgent humanitarian issue. The emotions stirred by the event may bolster public support for greater exchanges, and put pressure on South Korean President Park Geun Hye to endorse large-scale economic cooperation -- something she's said she won't do until North Korea drops its nuclear-arms ambitions.
"Family reunions hit at the most basic of human instincts," said Kim Jung Whan, an author who has written about how politics plays into the reunion issue. "As humanitarian as they may seem, the reunions are still a bargaining chip played between the Koreas."

Chinese Visit
The reunions are a sign that tensions on the peninsula have eased, which improves the chance for the Chinese leadership to accept any potential visit by Kim -- one of his overdue goals since taking power nearly four years ago.
China sent Liu Yunshan, a member of the Communist Party's top decision-making Politburo Standing Committee, to Pyongyang to join the Workers' Party celebrations last week. Liu was the most senior Chinese official to meet Kim since Chinese President Xi Jinping took office.
Still, Chinese frustration with North Korea's nuclear-arms program has blocked any meeting between Xi and Kim. Kim did not use the word "nuclear" in his speech during the anniversary event, in contrast to his regime's threat a month earlier to conduct a fourth atomic test.
Before it's here, it's on the Bloomberg Terminal.
LEARN MORE