Here's Who's Hiring and Firing on Wall Street
How headcount is changing at the biggest banks.
by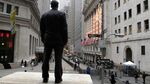 The ax keeps falling on Wall Street.
The six largest U.S. banks, under pressure to keep a lid on expenses, cut 20,065 jobs in the third quarter, according to data posted on the firms' websites. They employed a total of 1.05 million people as of Sept. 30, down from 1.07 million a year earlier.
Bank of America Corp. made the deepest cuts, eliminating 14,345 positions, or 6.3 percent of its full-time workforce, to end the period with almost 215,200 employees. Goldman Sachs Group Inc. increased its full-time payroll by 3,400, or 10.2 percent.

Before it's here, it's on the Bloomberg Terminal.
LEARN MORE