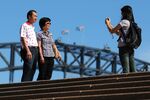 China's shift toward consumption could see Australia's exports to the world's second-largest economy double by 2030, even as growth in key commodity sales stalls. 
Services and agriculture exports to China will grow 10 percent annually, while coal and iron ore exports stagnate, according to economists at Australia & New Zealand Banking Group Ltd.
"In particular, the tourism and education sectors can expect strong growth as more Chinese citizens travel to Australia for leisure and study,'' the ANZ economists said. "As a result of emerging opportunities like these, we project that Australia's exports to China will almost double by 2030 but the transition could be a bumpy one.''

Forecasts like these will be welcome news for Australians, who are wondering where the next wave of economic growth will come from after prices for the country's biggest commodity exports tumbled.
Australia rode a mining investment boom for a decade, driven largely by China's fast growing demand for raw materials. But as construction in China slows, so does that demand, causing the value of goods and services exports to China to fall in 2014 for the first time in 16 years.

ANZ says a further 300 million new middle-class consumers will emerge in China's urban areas by 2030 and spending by the middle class should more than double, lifting consumption as a proportion of the economy's annual output to nearly 50 percent from 38 percent last year.
 Consumption contributed nearly 60 percent of China's growth in the first nine months of the year, according to data released Monday showing the country's economy grew 6.9 percent in the third quarter from a year earlier. 
Growth in the value of Chinese visits to Australia will grow more strongly in the next few years with the tripling of airline capacity between the two countries, ANZ says. 

"While Australia's commodities will still be needed for China's growing housing, infrastructure and energy markets, Australia needs to adapt to China's new growth model by moving towards service exports, as well as opportunities in agriculture and manufacturing," ANZ Chief Economist Warren Hogan said.
Still, Australia's efforts to boost such exports to China haven't always run smoothly.
Insurance Australia Group, one of the country's largest insurers, said last week that it had abandoned plans to boost its business in China.  "After completing significant work on assessing the opportunities available, IAG has determined not to pursue further investment in China," Chief Executive Officer Mike Wilkins said, without giving any further reason for the decision.
Questions have also been raised as to Australia's ability to continue attracting more Chinese visitors as much of the country's tourist infrastructure is tired and outdated.
As ANZ says, China's swing toward more consumption presents some challenges as well as opportunities.
Before it's here, it's on the Bloomberg Terminal.
LEARN MORE