Fantasy Sports Sites Got Squeezed This Weekend
DraftKings and FanDuel saw fewer players come to their sites over the weekend, for the first time since the NFL season started.
by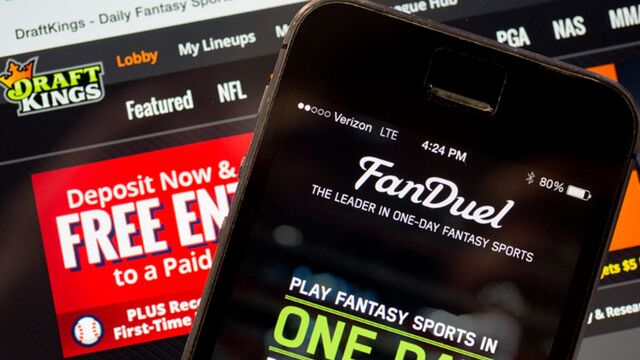 The two daily fantasy sports sites at the center of questions over insider trading have had their slowest weekend since the start of the NFL season. DraftKings and FanDuel both saw far fewer people enter contests related to the NFL games and saw a significant drop in player entry fees, in a sign players could be scaling back due to the questions raised about the basic fairness of the games. 
Players spent $42.8 million on entry fees into guaranteed contests on DraftKings and FanDuel this weekend, about $800,000 less than they spent the week before. These games make up about 70 percent of the activity on the site, according to SuperLobby, although FanDuel claims they make up a significantly lower portion of its activity.  SuperLobby, an industry research firm based in the U.K., described the numbers as a "reality check" for the companies after having their biggest week ever six days into a controversy over whether a player at DraftKings used inside information to win hundreds of thousands of dollars on FanDuel.
Both companies actually filled all the contests they offered, suggesting that the lowered level of activity is due at least in part to their own retrenchment. The two sites are preparing to reduce the level of guaranteed prizes they are offering next week, according to SuperLobby. DraftKings has also significantly pulled back on its advertising, although it started doing so before the controversy began. FanDuel has spent $11 million on television ads in the past seven days, making it the eighth-largest television advertiser in the country over that period, according to ispot.tv. 
The fallout also seems to be affecting Yahoo, the third-largest player in the daily fantasy market. Fewer people played on the site than at any time this month, even though it didn't cut the amount of money it was awarding in prizes. It paid out $1.10 for every $1 it brought in through entry fees. 
FanDuel said that it filled all its contests and described the weekend's activity as "status quo." DraftKings' chief marketing officer, Janet Holian, said: "These are just normal business fluctuations and reflect the variability of real-time sports schedules." Yahoo hasn't responded to requests for comment. 
While much of the scrutiny around daily fantasy sports has focused on fairness, there are increasing signs that the industry's underlying legality is being questioned as well. Late last week, Nevada said that daily fantasy sports companies would have to get licenses to operate in the state. In response, the Fantasy Sports Trade Association said it wouldn't hold its annual conference in Las Vegas. "Given the State of Nevada's decision to require paid contest operators to obtain licenses, and the manner in which those decisions were worded and communicated, we have chosen to relocate our winter conference. Continued patronage of Nevada is impossible for our industry at this time," said Paul Charchian, the organization's president in a statement. 
—With Scott Soshnick
Updates with comment from DraftKings
Before it's here, it's on the Bloomberg Terminal.
LEARN MORE