Economic Takeaways of China GDP, Investment, Output, Retail Data
by
It's a two-speed economy with services propping up growth

Doubts emerge over data as output, investment data disappoint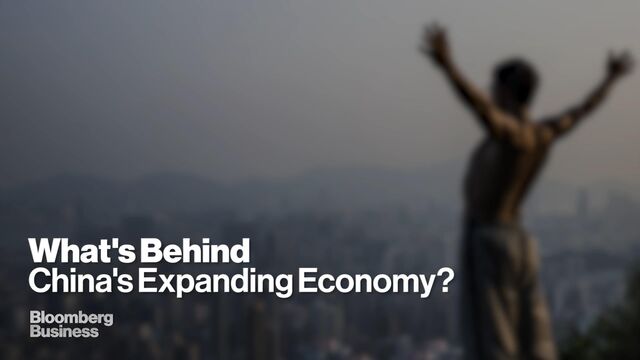 What you need to know about Monday's Chinese economic data:
TWO-SPEED ECONOMY
GDP rose 6.9 percent in the third quarter from a year earlier, beating the median forecast
Services industry expansion quickened to 8.4 percent, versus 6 percent for secondary industry, 3.8 percent for primary in first nine months
Quarter-on-quarter growth pace steady at 1.8 percent
Consumption contributed 58.4 percent to GDP growth in first nine months

The Takeaway: Consumption is underpinning growth as the economy transitions away from a reliance on investment and exports, preventing a steeper slowdown. Expanding demand for services including health care, education, tourism, entertainment and financial products make the economy less dependent on investment and industrial output, said Chi Lo, greater China senior economist at BNP Paribas Investment Partners in Hong Kong.
"Traditional macroeconomic output indicators are giving a distorted picture of China's growth," he said. "China's economic weakness may not be as dire as many observers think, even though industrial output, electricity consumption, freight volume and demand for raw materials have all grown slower than the headline GDP growth rate."
OLD DRIVERS FADE
Fixed-asset investment slowed to 10.3 percent in the first nine months of the year, set for the slowest rate since 2000
Industrial output rose 5.7 percent in September, missing economists' estimates
Output dragged down by declines in crude steel, steel product, cement, coal, coking coal, electricity and motor vehicles

The Takeaway: The slump in traditional "rust belt" industries continued. Assuming no revisions were made to previous months' data, Capital Economics Ltd. estimates fixed-investment growth fell to 6.8 percent from a year earlier in September, compared with 9.2 percent in August.
"Industrial production is weakening despite efforts by Beijing to stimulate the economy," said Andrew Collier, an independent China analyst and former president of the Bank of China International USA. "Rural FAI is declining, which suggests that, despite desperate efforts by local governments to keep the wheels of investment churning, the money is not adequate to keep investment up."
DATA DOUBTS
Although the headline GDP number slid gradually, a closer look into the expansion pace unadjusted for prices changes signals a sharper slowdown. Nominal growth came in at 6.2 percent in the third quarter, less than a third of that in the same period of 2011 and about one-fourth of the level in the third quarter of 2007. 
The GDP deflator was minus 0.7 percentage point in the third quarter, the widest negative gap in six years.
Bloomberg's monthly GDP tracker shows deceleration to 6.55 percent in September, down from a reading of 6.64 percent the prior month.
The Takeaway: Doubts over the reliability of China's economic data resurfaced, triggered by economic growth exceeding economist estimates at the same time as growth of both industrial production and fixed-asset investment slowed.
"China continues to overstate GDP growth," Julian Evans-Pritchard, a Singapore-based China economist at Capital Economics, wrote in a report after the data release. "These figures need to be taken with a grain of salt as official GDP growth appears to have become a poor gauge of the performance of China's economy."
Before it's here, it's on the Bloomberg Terminal.
LEARN MORE