DraftKings Says Probe Clears Employee Who Won $350,000
by
Allegations of cheating spurred calls for new rules, laws

Daily fantasy sports sites must get licenses, Nevada says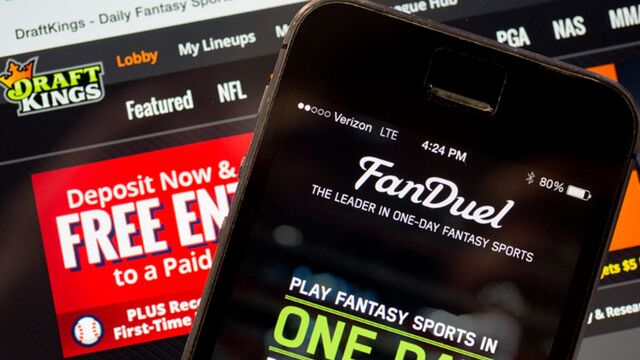 A law firm hired by DraftKings Inc. concluded that an employee of the fantasy sports company didn't use inside information to win $350,000 at a rival website.
The employee wasn't in possession of the customer data when he made his bet at FanDuel, DraftKings said Monday in a statement, citing the investigation by Greenberg Traurig LLP.
The probe was prompted by allegations of cheating that thrust the company, FanDuel and the rest of the growing fantasy sports industry into a maelstrom of lawsuits, calls for regulation and bad publicity. In the most recent blow, the Nevada Gaming Control Board said on Oct. 15 that daily fantasy sports operators must be licensed like casinos or cease doing business in the state.
"We are very pleased that the independent investigation by Greenberg Traurig has confirmed the findings of our internal review," DraftKings Chief Executive Officer Jason Robins said in the statement. "As the investigation also concluded, it was not even possible for non-public information to have been used improperly."
The scandal may be frightening customers away. DraftKings and FanDuel had their slowest weekend since the beginning of the NFL season. Fewer people entered contests related to the NFL games, and the sites collected about $42.8 million in entry fees for their guaranteed contests, down $800,000 from the week before. SuperLobby, a research firm which tracks daily fantasy sports, called the reduction a "reality check" for the companies.
The industry is scrambling to keep up with fast-moving events. FanDuel has organized an online petition campaign pressing lawmakers to keep games legal and accessible. The Fantasy Sports Trade Association has pulled its January convention out of Las Vegas, ESPN reported.
Amaya Inc., which owns StarsDraft, took another tack, saying Monday it would stop accepting entry fees in all but four states. New Jersey, Massachusetts, Kansas and Maryland have given favorable guidance to fantasy sports operators, the company said in a press release. Last week, Amaya said it welcomed casino-style regulation of fantasy sports.
There has been grumbling about the regulatory gray area for fantasy sports for months, but it boiled over with a report that a DraftKings employee, Ethan Haskell, released internal customer data, leading to allegations that he might have used similar data to place his winning bet on FanDuel.
Investigators from Greenberg Traurig concluded that would have been impossible. Haskell received the internal DraftKings data 40 minutes after FanDuel betting ended, according to a website statement Monday from DraftKings.
Before it's here, it's on the Bloomberg Terminal.
LEARN MORE