Dimon Says CEOs Should Focus More on Long Term, Not Analysts
Hugh Son and Claire Boston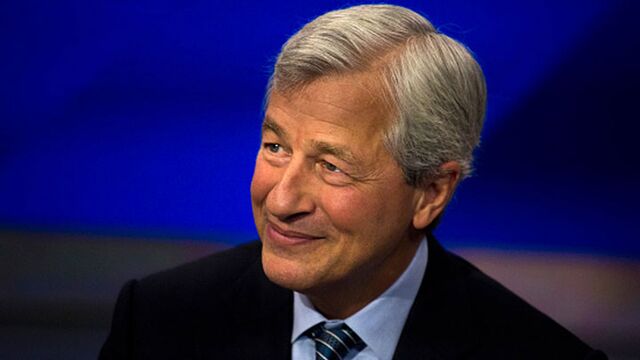 JPMorgan Chase & Co. Chief Executive Officer Jamie Dimon said corporate leaders shouldn't give earnings guidance because they can't predict the future and should focus instead on long-term performance.
Some CEOs "start making promises they shouldn't make," Dimon, 59, said Monday in a Bloomberg Television interview with Stephanie Ruhle. "Don't make earnings forecasts. You don't know what's going to happen every quarter. I don't even care about quarterly earnings."
Dimon, who's also chairman of the biggest U.S. bank, touched on topics including slowing economic growth in China and Europe and why banks settled with regulators after the financial crisis. He offered an upbeat view on the U.S. and said the Federal Reserve raising rates would benefit the country. He again dismissed the idea of running for political office or serving in government.
While many JPMorgan shareholders "completely appreciate" long-term investing, other market participants overreact to short-term results, Dimon said. The New York-based firm last week reported third-quarter profit that missed analysts' estimates as a slump in trading and mortgage banking drove revenue lower from a year earlier.
'Not Surrendering'
Dimon said he was "very happy" with the results. He cares less about how earnings compare with analysts' estimates than whether the bank is serving clients and gaining market share, he said.
MetLife Inc. and Evan Greenberg's Ace Ltd. are among financial firms that have stopped forecasting results for Wall Street in recent years. Billionaire Warren Buffett also opts against issuing predictions, saying that his annual letters and a statement of principles at Berkshire Hathaway Inc. tell investors what they need to know.
JPMorgan has added market share in debt and equity capital markets and mergers in Europe, Dimon said. Still, lenders such as Deutsche Bank AG, which announced sweeping management changes on Sunday, remain active competitors, he said.
"They're trying to modify how they run their business for the new rules and regulations, but they're not surrendering," Dimon said. "I've seen a lot more statements that they're getting out of something than we've actually seen in the marketplace."
Recruitment Worries
European firms also have picked former JPMorgan executives to revamp hobbled institutions. Dimon said he wished the best to Jes Staley, a leading candidate for CEO of Barclays Plc; Standard Chartered Plc CEO Bill Winters; and Jeff Urwin, who was promoted at Frankfurt-based Deutsche Bank over the weekend.
As for his current management team, Dimon said he does "worry very much that they will be recruited by everybody else." He called them "great partners" who hopefully won't leave.
In the wake of the financial crisis, firms had little choice except to pay fines and settle with regulators, the he said.
"It's impossible for a bank to fight the United States government," Dimon said. The alternative would be to do battle in court and have to pay anyway, he said.
Dimon said that a more unified regulatory system would be preferable and that some post-crisis reforms could have unintended consequences, particularly in debt markets.
"Certain regulatory requirements are constricting people's ability to make markets," he said. "And you see a little bit of that in the volatility in the markets."
Dimon, whose bank remained profitable during the crisis, said he accepts that some people have a negative view of the finance industry, especially with the presidential election next year.
"When the narrative was that all the banks were bailed out, that became the narrative and you can't battle that," Dimon said. "All I can really do is tell the truth."
Before it's here, it's on the Bloomberg Terminal.
LEARN MORE