Deutsche Bank: If the Fed Kneecaps U.S. Credit Growth, Get Ready for Twist 2.0
A different kind of unconventional stimulus may be in the cards.
by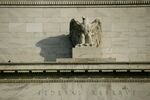 The chorus of voices wondering about a return to unconventional monetary policy in the U.S. is growing louder.
Bridgewater's Ray Dalio suggested that there would be a big easing — in which the central bank's bond-buying program known as quantitative easing was deployed once again — before a large tightening from the Fed. Meanwhile, outgoing Minneapolis Fed President Narayana Kocherlakota indicated that he thought monetary policymakers should be considering negative interest rates to help bring the economy back to full employment.
Now, Deutsche Bank's fixed income strategists, led by Global Head of Rates Research Dominic Konstam, think a different kind of unconventional stimulus might be in the cards: Twist 2.0.
Operation Twist was first used in the 1960s under President John F. Kennedy and brought back in the wake of the financial crisis in 2011 following two rounds of quantitative easing.
Operation Twist consists of selling shorter-term bonds and using the proceeds to buy debt with a greater duration. Unlike quantitative easing, it does not result in an expansion of the Fed's balance sheet. This exchange of debt helps push down mortgage rates for households and longer-term borrowing costs for companies, and also nudges investors into riskier assets, thereby theoretically stimulating the broader economy.
"A return to the portfolio balance channel, suppressing longer real yields and again hoping to crowd investors into bidding down funding costs for future investment would suggest further bull flattening and an overall lower term structure," wrote Deutsche Bank's team. "We think this is currently an underpriced risk in the market."
Twist 2.0 isn't Deutsche Bank's base-case call, but the team believes that markets don't adequately appreciate the potential for a deterioration in U.S. economic outcomes over the next year.
"We think that market pricing of scenarios such as an increase in the unemployment rate to 6 percent or even 7 percent is far too low," they wrote. "Subjectively we think this probability could be as high as 50 percent."
The economy would be in need of something like Operation Twist in the event that the Fed commits a policy error that tightens financial conditions too abruptly and severely, either by maintaining a stance that is overly hawkish or by rattling markets with an unexpected interest rate increase.
"The risk of policy error remains high as the Fed clings to its hawkish hold despite soft data globally and jittery risk markets," wrote Konstam's team.
Tighter financial conditions could kneecap credit growth from households, nonprofits, and nonfinancials, which may already be starting to falter, according to Deutsche Bank:

In the event that Twist 2.0 was announced, Konstam & Co. think the 30-year U.S. Treasury would revisit its all-time lows.
One way for the Fed to revisit this practice, the team posits, would be by reinvesting the proceeds from U.S. Treasuries that come due — a figure that would total more than $400 billion over the next two years — to target a specific maturity portion of the curve, or, for maximum duration effect, the long end of the curve.
U.S. monetary policy can't decouple from the rest of the world right now, according to the strategists, and liftoff could end up being perpetually delayed.
"[I]t is entirely plausible that the Fed could be trapped at the zero bound, with externalities from an already strong dollar the impediment to lift-off in the short run and a slowing domestic economy the problem in the medium term," the Deutsche Bank team concludes.
Before it's here, it's on the Bloomberg Terminal.
LEARN MORE