China's GDP Growth Beats Forecasts as Stimulus Supports Spending
Bloomberg News
Services sector grows 8.4%, cushioning industrial slowdown

Fixed-asset investment weakens to slowest pace since 2000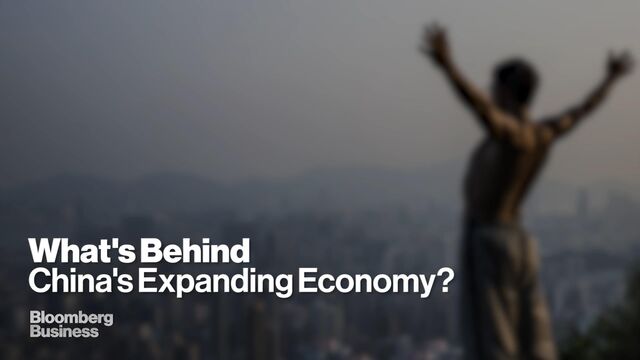 China's economy expanded quicker than economists forecast in the third quarter as the services sector offset weaker manufacturing, keeping Premier Li Keqiang's 2015 growth target within reach.
Gross domestic product rose 6.9 percent in the three months through September from a year earlier, the National Bureau of Statistics said Monday, beating economists' estimates for 6.8 percent. While that was the slowest quarterly expansion since 2009, based off previously announced data, stabilization will ease fears of a deeper downturn for investors and central bankers from Tokyo to Frankfurt to Washington.
Strength in services and consumption helped reduce the drag from weaker manufacturing and exports, showing the continuing transformation of the world's second-largest economy. The pace of growth in the services sector quickened to 8.4 percent in the first nine months of the year, while so-called secondary industry -- which includes manufacturing -- weakened to a 6 percent expansion.
The data show "a re-balancing away from growth driven by investment and secondary sector production towards consumption and the services sector," said James Laurenceson, deputy director of the Australia-China Relations Institute at the University of Technology in Sydney. "It's time we accept that Chinese growth isn't solely at the mercy of industrial production and fixed-asset investment."
The government has cut interest rates five times since November and boosted infrastructure spending in recent months to keep growth from sliding too far below this year's target for about 7 percent.
Shares pared earlier gains, with the Shanghai Composite Index closing little changed. The Australian dollar strengthened.
Industrial output in September rose 5.7 percent from a year earlier, compared with economists' median estimate of 6 percent. Retail sales increased 10.9 percent, versus a 10.8 percent gain forecast for the month.
"Consumption continued to function as the key cushion, preventing a sharper overall slowdown," said Louis Kuijs, head of Asia economics at Oxford Economics Ltd. in Hong Kong. "The property slump and export weakness contained industrial sales and profit margins and lifted spare capacity, particularly in heavy industry."

Fixed-asset investment climbed 10.3 percent in the first nine months from the same period last year, compared to a median projection of a 10.8 percent increase. That's the slowest pace of gains since 2000.

The slower growth of both industrial production and fixed-asset investment prompted some economists to question the reliability of the GDP data for a quarter that also included a stock market rout.
"We don't have total confidence in the numbers, and we are surprised by the acceleration in services output given the collapse in the equity market," Bloomberg economists Tom Orlik and Fielding Chen wrote in a note. "However, tax revenue -- difficult to fake -- is up 5.2 percent year on year in the eight months to August and the gap with nominal GDP growth is narrowing."
Bloomberg's monthly GDP tracker slowed to 6.55 percent in September from 6.64 in the prior month.
Reflecting the slowdown in the nation's old growth drivers, power consumption declined 0.2 percent from a year earlier in September. A slowdown in property investment and excess industrial capacity have weighed on industries from steel to cement, leaving the economy on track for its slowest full-year expansion in 25 years.
Growth in real estate development investment, signaling developers' confidence in future sales, slumped to 2.6 percent in the first nine months from 3.5 percent in the January to August period.
China affects the world more than ever, with Federal Reserve Chair Janet Yellen last month citing concern about China's economy among reasons for holding off from raising interest rates. A record stretch of deflation at the factory level in China is also helping depress prices for manufactured goods globally.
Growth Stabilization
"The overall impression is that growth has stopped slowing but it's not rebounding either," said Shane Oliver, head of investment strategy at fund manager AMP Capital Investors Ltd. in Sydney. "Given that the risks remain on the downside and growth has slipped below 7 percent, further policy easing is likely."
While avoiding the kind of all-out stimulus deployed after the global financial crisis, policy makers have deployed a variety of tools to cushion the slowdown. The People's Bank of China has cut interest rates to record lows and reduced banks' reserve requirement ratios, the finance ministry has relaxed rules for local authorities to borrow, and the top economic planning body has stepped up project approvals.
"Between infrastructure investment spending and consumers, the economy is still powering along pretty well," said Tim Condon the head of Asian research at ING Groep NV in Singapore. The GDP result "has to be a vote of confidence that the stimulus is doing something."
(An earlier version of this story corrected the period for services sector growth.)
— With assistance by Xiaoqing Pi
Before it's here, it's on the Bloomberg Terminal.
LEARN MORE